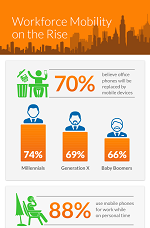 Today, RingCentral, Inc. released the results of a survey conducted by Dimensional Research in October 2013. The survey, titled "Workforce Mobility on the Rise," is a collection of responses from 309 IT and Business Phone Buyers, 65% of whom were in IT/technology job roles. The most interesting finding of this survey was that 49% of employees are opting to use their mobile device over their office phone in the office, and they are using their mobile device more for work on personal time.
In fact, 88% of respondents said that they use their mobile phone for work purposes while on personal time, be it vacation, weekends, evenings and lunch breaks. RingCentral and Dimensional Research broke this down by age and showed that the highest age group to follow this trend was Gen Xers (35-50) at 90%, while Baby Boomers (50+) showed 87% and Millenials (35 and under) 84%.
David Berman, President, RingCentral, offered this insight in a press release today: "Mobile devices are turning into true business tools and are transforming the workplace as a whole, from shifting traditional business hours to changing how employees interact via voice, video, text and other business applications. We believe that all these changes are making legacy on-premise phone systems obsolete as they do not meet modern business needs."
Participants were also asked if they thought mobile devices would replace standard office desk phones. The result was 70% Yes and 30% No. In addition, 49% of respondents felt that this transition would be complete within the next 3-5 years.
To view the full survey results, please visit the site here. And view the full Infographic here.