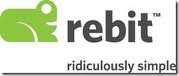 Rebit, Inc. today announced availability of Rebit Unlimited, a backup solution for home and SMB users that combines unlimited cloud service with Rebit's comprehensive local backup.
"Rebit has built a reputation for delivering ridiculously simple, yet powerful backup solutions for home and small business users," commented Paul Guerin, CEO, Rebit Inc. "Rebit Unlimited extends this commitment to our customers by combining all of the advanced functionality of Rebit6 with unlimited cloud storage at a great price! Rebit Unlimited is simply the most comprehensive, cost-effective, and simple-to-use backup solution available in the market today."


Features of Rebit Unlimited include complete system protection, support for Windows clients and servers, anywhere access, unlimited cloud service and hybrid backup architecture.

More information on trialing or purchasing the Rebit Unlimited Solution can be found here.