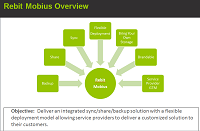 Rebit today announced availability for the Rebit Mobius solution designed specifically for MSPs and CSPs. The Mobius solution combines sync, share, and backup capabilities into simple software. Mobius marks the Rebit's first big step into the business solutions market.
I was recently able to speak with Paul Guerin, CEO, Rebit and Courtney Macchia, VP Marketing, Rebit to discuss the new Mobius solution, and they explained that Mobius can be deployed one of three ways: as an on-premise only solution, as a cloud only solution, or as a hybrid option. In addition, MSPs and CSPs can brand the Mobius solution with their own logo, and integrate it into their current ecommerce systems, to keep control over client relationships. Rebit is also planning a "dynamic branding" feature for Mobius 2.0, which will allow MSPs to brand the solution with their customers' logos, but as of today's release, branding can take between 1-2 days to complete. Guerin explained to me that Rebit has a long history of white label and OEM partnerships, and that the company strives to keep control in their customers' hands.
Additional features of Mobius include:
Ability to sync and share from the file level: No need to have all shared items in a particular folder.

True backup for each share and sync.

BYO Storage option in which users can plug Mobius into their preferred cloud solution, or they can utilize a Rebit Privatized Cloud space.

Central admin console, which allows for control of multi-tenancy systems from a single dashboard.

Rebit Privatized Cloud option that includes encryption when data leaves the PC, and double encryption when it enters the storage space.
Courtney Macchia explained that Mobius is currently available in two pricing options, based on storage preference. The Cloud share via Rebit Privatized Cloud option offers 500GB of storage at $50.00/month for the first 5 users, and $10.00/month for each additional user. The other option is BYOStorage, which offers the same space and 5-user monthly pricing, but is $5.00/extra user per month.
Rebit is currently offering a free 30-day trial of Mobius at the site here.