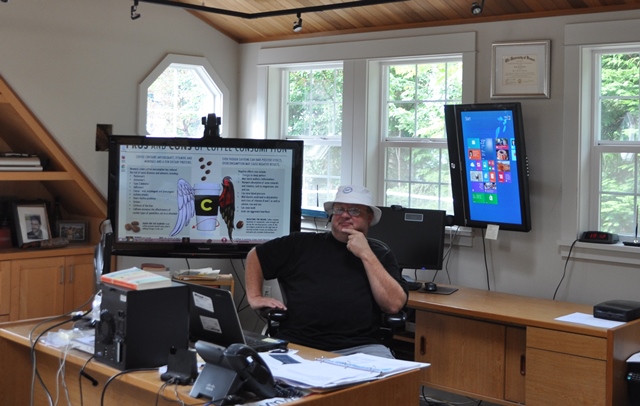 Sources close to the top have confirmed that Windows 8.1 has released to manufacturing (RTM) and is on the way. The rumor, which is now fact, was leaked last Friday (perhaps to defer attention on the retirement announcement concerning Steve Ballmer). Like many readers, I've been running the Windows 8.1 Preview on a few machines for the past few months. I even have my sons and wife playing around with it on the family PC in the TV room. The consensus: We like it!
First a slap down to the Eight Haters: You got your START button back. Are you happy now? Sheesh…
Notice I didn't say "love it," and I'll tell you why. I'm disturbed by what could be a lingering problem of legacy driver support. This past weekend, I reformatted my VU Telepresence computer (running Linux) to be another Windows 8.1 Preview test machine. My intentions, as seen in the photo, were to convert this machine to a new telepresence machine running Skype and Lync. (My setup experience with Lync is a whole 'nother story next week!). The installation was seamless, and I instantly had dual monitor support (I went for the triple monitor, however it wasn't supported by my video card). I began having issues when I attached the FireWire HD camera that was provided by VU Telepresence. The problem is that Windows 8.1 doesn't support the 1394 FireWire standard! Oh–it tried to install a FireWire driver but was unsuccessful, and the "Repair" function failed.
I need your help. On Saturday morning, when I was geeking out on all of this, I posted up to the "You Know You Grew Up With SBS If…" Facebook group of like-minded geeks about 1394 FireWire support in Windows 8.1. Almost instantly there were 16 comments (you really need to join this group). A shout out to Tyler Pelletier for posting up possible real solutions (third-party drivers, etc.) but alas none of these worked. So now I'm stuck. If you know of any information leading to a 1394 FireWire solution in Windows 8.1, please email me offline:
This email address is being protected from spambots. You need JavaScript enabled to view it.

.
But back to the core story. Windows 8.1 *should* be out in six weeks, at least via OEMs, if tradition holds. Traditionally, a product needs six weeks from RTM to availability. I've read reports that Microsoft is targeting October 18 *but* you betcha that Windows 8.1 will be a focus at the
11th Annual SMB Nation Conference
held October 10-12. My spin at "the conference" will be fostering a new conversation. Those migrating from Windows XP no longer need to "hate eight" and can now go straight to 8.1. It's time to have an adult conversation about that. For the rest of y'all, yes you can still downgrade to Windows 7!
Lemme know what you think?