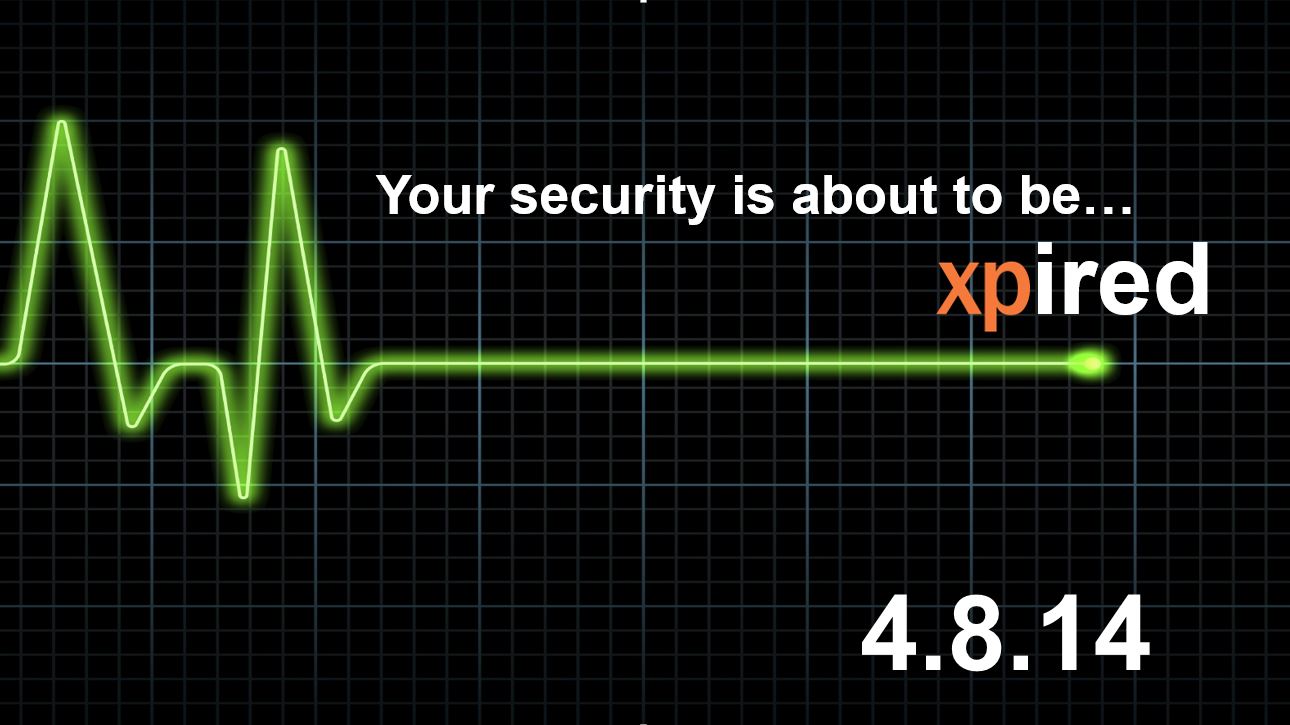 Today is August 8, and there's just eight months left before the April 8, 2014 end-of-life/service deadline for Windows XP (plus Small Business Server 2003, Office 2003 and anything Server 2003 including Exchange). Yesterday, I was having a conversation with an analyst about what April 8, 2014 really means…will that date live in infamy?
In reality, April 8 is very important in the new world of cyber-terrorism, new devices and the human need for speed and productivity. For all of the obvious reasons readers already know, the rational decision would be to migrate away from Windows XP to a newer operating system. An interesting side note is that April 8 will effectively be the last "Patch Tuesday" for the retiring Windows and Office product stack.
But you and I both know that not everyone in the world will migrate away from Windows XP by April 8. First of all, it's mathematically impossible. It'd be in excess of 0.5m machines per day taking the plunge at this late date. In fact, an interesting story out of China today has the worldwide fleet of Windows XP machines in excess of 570 million machines (I had previously pegged it around 400-million machines. Regardless of what you believe, it's a very large number of Windows XP endpoints that need to be replaced.
Here is my point: The life cycle for the XP migration movement will extend well beyond the April 8, 2013 "election day." The question becomes, when is the "end-end" date? I would like to offer it's really what the industry likes to call the "fifth quarter" of activity. My "fifth quarter" is therefore an additional 24 months. I believe that we'll be talking about the XP migration (as well as the Server 03) matter for two years, hence after the April 8th deadline.
Does that make sense? Do you agree or disagree? Let me know…
HumorZone:
I went to an interesting Web site, On-this-Day.com, to find out what's unique and special about April 8, 2014:
1513 - Explorer Juan Ponce de Leon claimed Florida for Spain.
1525 - Albert von Brandenburg, the leader of the Teutonic Order, assumes the title "Duke of Prussia" and passed the first laws of the Protestant Church, making Prussia a Protestant state.
1789 - The U.S. House of Representatives held its first meeting.
1832 - About 300 American troops of the 6th Infantry left Jefferson Barracks, St. Louis, to confront the Sauk Indians in the Black Hawk War.
1834 - In New York City, Cornelius Lawrence became the first mayor to be elected by popular vote in a city election.
1839 - The first Intercollegiate Rodeo was held at the Godshall Ranch, Apple Valley, CA.
1873 - Alfred Paraf patented the first successful oleomargarine.
1911 - The first squash tournament was played at the Harvard Club in New York City.
1913 - The Seventeenth amendment was ratified, requiring direct election of senators.
1935 - The Works Progress Administration was approved by the U.S. Congress.
1939 - Italy invaded Albania.
1942 - The Soviets opened a rail link to the besieged city of Leningrad.
1943 - Wendell Wilkie's "One World" was published for the first time.
1946 - The League of Nations assembled in Geneva for the last time.
1947 - The first illustrated insurance policy was issued by the Allstate Insurance Company.
1952 - U.S. President Truman seized steel mills to prevent a nationwide strike.
1953 - The bones of Sitting Bull were moved from North Dakota to South Dakota.
1962 - Bay of Pigs invaders got 30 years imprisonment in Cuba.
1974 - Hank Aaron hits 715th home run, breaking Babe Ruth's record.
1975 - Frank Robinson of the Cleveland Indians became the first African-American manager of a major league baseball team.
1985 - India filed suit against Union Carbide for the Bhopal disaster.
1985 - Phyllis Diller underwent a surgical procedure for permanent eyeliner to eliminate the need for eyelid makeup.
1986 - Clint Eastwood was elected mayor of Carmel, CA.
1987 - Los Angeles Dodgers executive Al Campanis resigned over remarks he had made. While on ABC's "Nightline," Campanis said that "blacks may not have some of the necessities to hold managerial jobs in Major League Baseball."
1988 - Former U.S. President Reagan aide Lyn Nofzinger was sentenced to prison for illegal lobbying for Wedtech Corp.
1990 - In Nepal, King Birendra lifted the 30-year ban on political parties.
1992 - In Britain, the last issue of "Punch Magazine" was published.
1994 - Smoking was banned in the Pentagon and all U.S. military bases.
1998 - The widow of Martin Luther King, Jr., presented new evidence in an appeal for new federal investigation of the assassination of her husband.
2000 - 19 U.S. troops were killed when a Marine V22 Osprey crashed during a training mission in Arizona.
2001 - Microsoft Corp. released Internet Explorer 6.0.
2002 - Ed McMahon filed a $20 million lawsuit against his insurance company, two insurance adjusters, and several environmental cleanup contractors. The suit alleged breach of contract, negligence and intentional infliction of emotional distress concerning a toxic mold that had spread throughout McMahon's Beverly Hills home.
2002 - Suzan-Lori Parks became the first African-American woman to win a Pulitzer Prize for drama for her play "Topdog/Underdog."