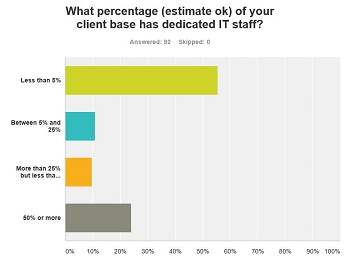 The Office 365 journey continues. And with this second installment of the Office 365 community survey, I have good news for MSPs: the more things change, the more things stay the same. In reviewing the results with industry thought leaders, I found that our survey results were validated by industry observations. That is, the MSP business model isn't necessarily shrinking, but changing. That is because MSPs are really selling customer service, support and human interaction. And that will continue with the pivot to Office 365.
When asked "What percentage (estimate ok) of your client base has dedicated IT staff?" you overwhelmingly replied less than 5 percent. If you extend up to the next range (up to 25%), the combined response is in excess of 2/3 of all respondents. The point is this to MSPs: don't give up your day job anytime soon. Your services are in-demand irrespective of the technology.
The next question was: "What are the most common business challenges that your clients hope O365 solves?" The replies, in free-form text entries, focused on lowering costs, sharing and collaboration. Other "mentions" included storage and ease of management. In the next survey, I'll ask this as a rate/stack question instead of freeform so I can better tally percentage results.
Understanding the question immediately above, the next question was a follow-up: "Does Office 365 effectively address these challenges?" The overwhelmingly affirmative response (at 76%) was YES! It's important to understand that this specific response is arming you for business development. If you probe in your discovery phase with a client that can benefit from collaboration (for example), then you can fortify your sales pitch with the feedback that over 76% of IT Pros believe that Office 365 can solve your problems.
The final question for this installment is: "What is the greatest difficulty your clients experience using O365?" Again, it was a free form response field so that narrative varies dramatically. But a few highlights include "too many ways to do the same task in SharePoint v. OneDrive." Another frequent mentions were:
Understanding all the features

What if the Internet goes down

Lack of training (e.g. getting staff to use OneDrive)

Hybrid deployment complexity

Slowness

Letting go of the old traditional hardware and starting the change process in how the cloud can solve common problem

Hitting restrictions: SharePoint file limits, types

Mac users want everything on their desktop, not web-based file systems

The major headaches are working with more than one domain (possible, but requires customization)

Not ready for change, uncomfortable with cloud
In my next blog installment, I'll share you get help with your Office 365 questions.