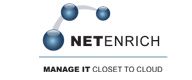 Today, NetEnrich, Inc. announced the release of an updated remote services suite designed for SMB organizations. With the updated services, IT Professionals are able to gain better insight into their clients' infrastructure via remote viewing and management. In addition, they can co-label the NetEnrich platform to include their organization's logo.
"SMBs can quickly become overwhelmed when it comes to managing their IT infrastructures, and as is often the case, rely on fractional resources that do not always have the knowledge and expertise to identify and resolve each and every issue that may arise within their IT infrastructure," said Justin Crotty, Senior Vice President and General Manager, NetEnrich, in a press release today.
The NetEnrich platform is currently on a "pay as you go" pricing model, and includes 24x7x365 support. The SMB Services package is available from either NetEnrich or Ingram Micro and is available in three service options: SMB Manage, SMB AID and SMB SmartEscalate.
The SMB Manage option provides full management of client infrastructure with a focus on troubleshooting, coordination with 3rd party technicians and reporting via the NetEnrich Platform. The next level, SMB AID, features proactive monitoring of client infrastructure by checking on the performance of operating systems, network devices and monitoring of event logs.
Finally, the SMB SmartEscalate enables the IT Pro to utilize NetEnrich resources to sort and filter all infrastructure alerts, passing only critical alerts on to the solution provider tech team.
For more information on NetEnrich, please visit the site here.