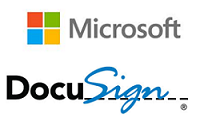 Microsoft Corp. and DocuSign recently announced that they have entered into a long-term strategic alliance through which DocuSign would be able to make its e-signature apps accessible to users on the Microsoft Office 365 platform. As of this week's release, DocuSign apps will shortly be available for Microsoft Word, Outlook and SharePoint (Server and Online).
In a press release this Monday, the two companies stated that they expect DocuSign's apps for Office 365 to be available in early March 2014, via Microsoft's Office Store. Microsoft explained that users with administrative privileges may add the DocuSign applications to their users' accounts directly from their admin dashboard. In addition, Microsoft will host Word templates Office 365 customers can use with the DocuSign apps, and users will have a single-sign-on (SSO) experience to access all DocuSign applications. All signed documents are securely stored on Microsoft OneDrive for Business.
DocuSign also has a host of training webinars on its website, to help new users get the feel of the apps.
For more information about the DocuSign apps for Microsoft Office 365, please visit the Microsoft Office Store, or the site here.