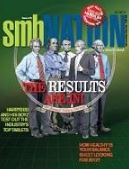 Are you interested in how much money your peers are making each year? How about looking to compare notes with others who are "in your league" but maybe on a different pay scale? Well then you will definitely want to participate in our Annual Salary Survey, which we are conducting again for the seventh time this year.
Click here to complete our list of survey questions, which were again compiled with the assistance and expertise of Anurag Agrawal, CEO, Techaisle, our research partner on this project each year. Once the survey closes, the results will appear both on our Web site and as the cover story of the Q2 issue of our magazine.
Bonus: One respondent will receive a BlackBerry z10 phone! Please be sure to accurately fill out the short form at the bottom of the survey.
Check out the results here from last year's survey, which were published in the Q1 2012 issue of SMB Nation magazine.