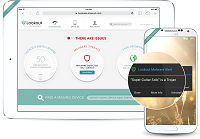 Lookout recently announced the addition of Lookout for Business, a Mobile Device Management and Mobile Security solution for all sizes of organization. The company also released the results of a Fall 2013 survey on BYOD in the workplace.
"Lookout's expansion into business comes at a critical time, and the security stakes are higher than ever," says John Hering, CEO of Lookout. "Businesses approach us every day to find out how they can get Lookout for their employees, and we look forward to providing security that we know businesses require."
The Lookout for Business solution has the following features:
Grants admins the ability to locate, lock and wipe lost or stolen phones.

Employees may also use a "locate and scream" alarm to find lost devices.

Admins may manage their entire mobile device network via a central portal to see if any threats are present, and they can search by individual device.

Automatic cloud-based updates ensure proper security compliance.

Malware protection for smartphones and tablets that includes both link and app scanning.
The Lookout report, "Key Business Insights for Mobile Security in a BYOD World," conducted by Forrester research in Fall 2013, shows how the BYOD trend has grown in the professional world. In particular, 90% of those polled said that their organization allows some form on BYOD in the workplace, particularly smartphone and tablet devices. Of these respondents, 69% said that they are highly concerned about mobile malware and viruses, and 60% said that they have lost a smartphone containing company data. The full report is available at the site here.