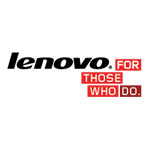 Lenovo recently announced the addition of four new solutions to its ThinkServer Line. These additions include the 1U ThinkServer RD340 two-processor rack server, the 2U ThinkServer RD440 two-processor rack server, the ThinkServer TD340, and the ThinkServer SA120, a rack-mount, direct-attached storage enclosure. Lenovo explaine that the RD 340 and RD 440 are now generally available, while the TD340 and SA120 are expected to be available in February, 2014.
"With our new high-performance, feature-rich ThinkServer two-processor servers and scalable, rack-mountable ThinkServer DAS enclosure, we continue to round out our enterprise product portfolio," said Roy Guillen, Vice President and General Manager, Enterprise Product Group, Lenovo. "We now offer customers more and better choices to address an expanded set of capabilities and workloads."
The 1U ThinkServer RD340 and 2U ThinkServer RD440 are both rack servers that contain many of the same features, including the addition of the Intel Xeon E5-2400 v2 series processors, which can operate 25% faster than previous versions. In addition, both servers can support up to 192 GB of memory and hot-swappable storage. Lenovo explained that these two servers are ideal for SMBs, as well as organizations in the education, retail or state/local government verticals. For both devices, the user may decide to either use their own managed tools, or pick up Lenovo tools for no extra charge. The ThinkServer RD440 can also support up to 48TB of internal storage.
The ThinkServer TD340, on the other hand, is a tower server designed specifically for educational institutions, allowing them to run campus cloud, collaboration applications and web services for students, as well as healthcare institutions and M-sized organizations that run CRM and database applications. Like the RD340 and RD440, the TD340 can support up to 192GB of memory, and can also support up to 32TB of internal storage.
Finally, the ThinkServer SA120 is optimized for use in datacenters, and can support both 3.5" and 2.5" drives in its 2U enclosure. In fact, Lenovo reps stated that this particular device can support up to twelve 3.5" SAS slots in the front, and an optional four 2.5" SDD drives in the front. If the device needs repairs, users may take shared parts from existing ThinkShare rack servers.
For more information about the Lenovo ThinkServer line, please visit the site here.