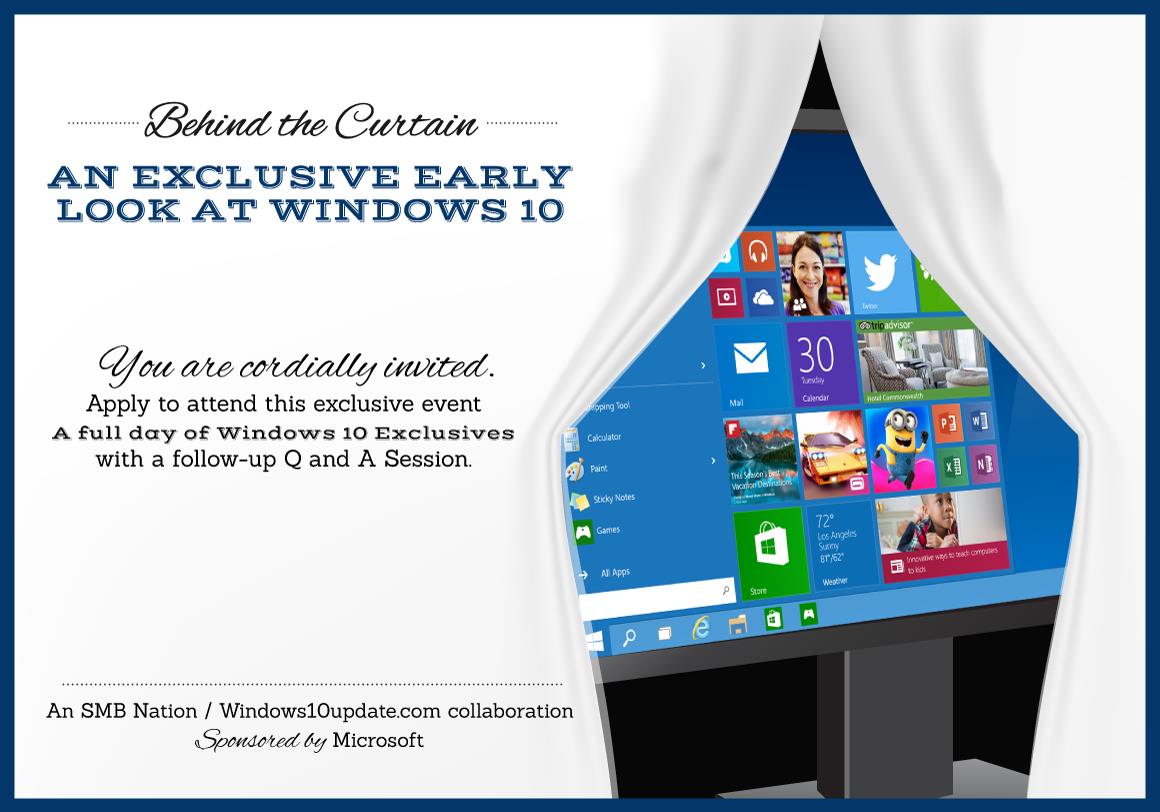 We are pleased to announce today we are working with Microsoft and Windows10Update.com to conduct a pilot preview tour in five U.S. cities during June 2015.
Join us on this webinar as we describe the tour, the Windows 10 opportunity, and answer all your questions.
Please register for An Exclusive Look at Windows 10 May 28, 2015 at 10 a.m. PDT at
https://attendee.gotowebinar.com/register/1560273337275271169
After registering, you will receive a confirmation email containing information about joining the webinar.
We want to emphasize the INDEPENDENT nature of this learning opportunity. As an outsider looking in, we will take you behind the curtain, allowing you to discover the "real" Windows 10 in advance of everyone else. Attendance is limited to 50 qualified participants, so sign up immediately!
SIGN-UP FOR THE TOUR HERE: http://www.windows10update.com/welcome-to-the-windows-10-behind-the-curtain-event-series/
Sponsored by Microsoft, these events are FREE and will be held at Microsoft locations in New York City, Los Angeles, Fort Lauderdale, Redmond and Austin.
Who should attend?
• Managed Service Providers (MSPs)
• Partners
• Consultants
• IT Pros
What will you discover?
The content is primarily technical in nature. As a BONUS, you will participate in a focus group exercise that will help shape Microsoft's Windows 10 strategy. This is a rare opportunity to influence a product as a real-world professional.
We will cover the following:
• Intro to Windows 10 and a Full Overview
• New Features in Windows 10
• The Windows 10 Mobile Story
• The Windows 10 Developer Story
• Windows 10 Security
• Universal Applications
• Cortana
• Microsoft Edge
• Continuum for Phones
• Windows 10 and Office 365 – Success Together
• Windows 10 for the Internet of Things
• Deploying Windows 10
and much more…
You will enjoy learning from our expert trainer, Onuora Amobi, the editor at Windows10update.com.
Where are the events?
Click on the city closest to you to learn more:
• New York City, New York – June 2, 2015
• Los Angeles, California – June 9, 2015
• Fort Lauderdale, Florida – June 23, 2015
• Redmond, Washington (info coming soon)
• Austin, Texas (info coming soon)
SIGN UP FOR THE TOUR HERE: http://www.windows10update.com/welcome-to-the-windows-10-behind-the-curtain-event-series/