First the end of the story, then the context. Today, GoDaddy has delivered an improved email marketing experience that integrates with its website builder solution in five languages. It's leveraged its Mad Mimi acquisition, completed just under a year ago, to foster more friendly functionality into its small business portfolio. For example, GoDaddy clients can collect contact information on a form on their website and then populate their email marketing machine to send out newsletters to customers.
GoDaddy used words like seamless, easy-to-use and integrated to describe this less friction-like email marketing experience that puts GoDaddy on par with Constant Contact and MailChimp. I'll keep an eye on this solution as your SMB ombudsman and report further enhancements in its features and functionality when warranted. In fact, I used the solution a few months ago (before the latest features) and I intend to revisit GoDaddy Email Marketing over the summer for use by SMB Nation and O365nation.com.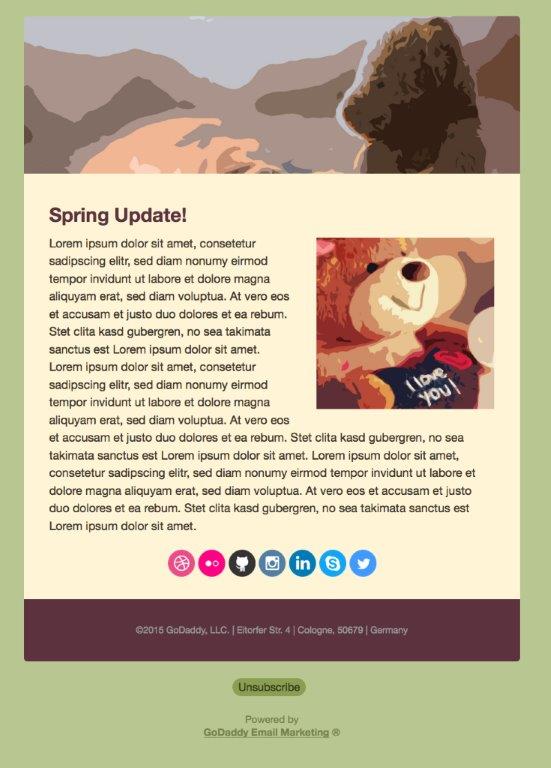 Now the back story. In speaking with Steven Aldrich for this blog, I was struck how he exposed the GoDaddy mission "…to radically shift the global economy toward small businesses by empowering people to easily start, confidentially grow and successfully run their own ventures." It's the same type of language used by third-world micro-lending NGOs and SMB Nation. Witness our time in the trenches with Microsoft Windows Small Business Server (when we advised Peace Corps on its PeacePacks, SeaLand containers stuffed with technology to the Microsoft Response Point phone system in a time when we believed the world would be a better place if everyone had a phone!).
GoDaddy resembles those remarks with its commitment to a holistic customer experience that makes money for the small business and GoDaddy. It's a win-win good for you, good for me business approach that, quite frankly, is appreciated in this era of detached anonymous lead scoring as the customer acquisition flavor of the month.
Now the rest of the GoDaddy Email Marketing story.
GoDaddy Email Marketing is easy-to-use, allowing small business customers to create email marketing campaigns without the complicated set-up they might get from other email marketing platforms.
"Consumer expectations are high in today's always connected world and businesses of all sizes need to engage with customers effectively and professionally. To remain competitive, small businesses must look to email marketing as an effective and inexpensive way to build lasting relationships with customers—and generating new business," said Steven Aldrich, GoDaddy senior vice president of business applications. "At GoDaddy, we're constantly working to make the business of business easier for customers. Integrating our products for the most holistic, end-to-end experience possible, is just one step we're taking to deliver world-class human-scale technology solutions for small businesses."
A simple, affordable way for small businesses to stay competitive, as Aldrich mentioned, the service was quietly rolled out in March, stemming from the acquisition of Mad Mimi in August 2014. The former Mad Mimi team leveraged its substantial experience serving small business customers with world-class marketing solutions and applied the same level of expertise to GoDaddy Email Marketing.
"Since the Mad Mimi team has become a part of the GoDaddy team, we've been able to combine efforts to provide small businesses with the perfect email marketing product," said Gary Levitt, who founded Mad Mimi and now guides email marketing at GoDaddy. "Having access to GoDaddy's 13 million customers, most of them small businesses, has allowed us to think more comprehensively about small business email marketing—leading to strategic product integrations and expanded capabilities for customers."
The GoDaddy Website Builder integration offers a seamless experience for customers who want to collect email addresses on a website and use those contacts to grow their businesses. Customers can simply log in and start using the applications together – one integrated service from one provider. This contrasts the complications and time required of a small business to stitch together products from multiple companies, a process which requires importing and exporting customer lists and making changes to numerous platforms.
With the Website Builder integration, customers can turn on a sign-up form on their websites and instantly begin collecting email addresses from site visitors. The new contact management functionality enables customers to add and edit contacts from within the Website Builder interface. Contacts collected from the sign-up form flow directly into the contact management feature, and when the small business owner is ready, they can simply start sending newsletters by clicking "send newsletter" to begin communicating with their contacts. As a bonus, the integrated email marketing service is free for the first 500 emails sent.
"Email marketing is a proven tactic for small business and one that continues to be heavily used despite the rise of numerous other channels," said Greg Sterling, vice president of strategy and insights at Local Search Association, "yet business owners need to step up the sophistication of their campaigns in the midst of mobile migration, increased complexity and competitive noise in the broader market."
GoDaddy Email Marketing is available for small businesses in international markets. The product is now offered in 26 countries and five languages: English, Spanish, German, French and Brazilian Portuguese, making it simple for small businesses around the world to engage and retain customers.
Analyst Disclaimer: I do not own stock in GoDaddy, which recently went public with a March 2015 IPO.