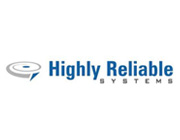 Late last week, Highly Reliable Systems announced the release of their new large format backup appliance designed for SMBs. The RAIDFrame Plus device features removable drive packs and up to 48TB of backup space.
Additional features of the RAIDFrame Plus device include:
Network Attached Storage (NAS) device.

RAIDPacs include 3 SATA drives and RAID 5 controller and can be accessed without the RAIDFrame via a USB 3.0 or SATA port.

Transparent mirroring capabilities for RAIDPacs, which allows servers/backup software to read a constant volume.

Data mirrored at up to 850 GB/hour.
For more information about this solution, please visit the site here.