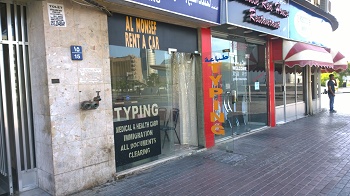 We've been retained by Microsoft to assist in forming an SMB advisory group of actual small business customers (NOT CONSULTANTS). The challenge is that most small businesses use an MSP or consultant to implement Office 365, which is fine. However, we are seeking to speak with small business customers directly, such as the small business owner who is a "Do It Yourself" (DIY) scenario.
Such small businesses might include an office supply store, a small real estate firm, a law firm, butcher, baker and candlestick maker. It could even be the typing shop pictured in this blog. If you are a computer retailer or consider your SMB MSP practice to itself be a small business, we'd kindly ask that you decline this polite offer.
Specifically, we are interested in having on going SMB advisory group that will:
Provide crucial feedback on SMB pain points with O365

Create a platform for ongoing discussion of SMB experience with Office 365

Allow for a 'sounding board' for current and future questions and scenarios

Provide a consistent space for early feedback on the content we produce for Office 365
BONUS: If you are in the Seattle-area, go to the front-of-the-line: We are seeking a smaller focus group (in the Seattle area) that we can meet with in person occasionally to have in person discussions about various scenarios.
"An area of infrequent feedback on O365 is small businesses. We want to learn more about their common pain points, and we would like members of these groups to provide feedback on brief support articles relevant to O365. We would also like to call on select members to join even smaller focus groups, to provide first person evaluation of troubleshooting options, documentation inquiries, etc." Shared a Microsoft Office 365 product team program manager. "Currently we are looking for additional SMB participants, and our first pick would NOT be consultants, but rather those small business folks that are using O365 and (possibly) struggling through the adoption process."
What is the benefit for participating in this opportunity? Consider this a leadership exercise that will further your professional development. And Microsoft has been known to provide prizes to advisory committee members (hint-hint). Seriously – regardless of your personal and professional aspirations, it will never hurt to circulate in the community. And having diplomatic relations with Microsoft is a plus.
If you *are* a traditional small business using or planning to use Office 365, please ping This email address is being protected from spambots. You need JavaScript enabled to view it..