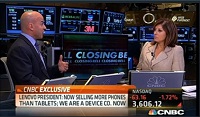 Earlier this week, Lenovo flexed its PC prowess and proved pessimists wrong with its PC Plus strategy. In short, it's kicking ass across the board in a segment that is witnessing macro-declines and soft market conditions. I'll share the "numbers" below after a bit of analysis.
So how is Lenovo doing it? It's got the hot hand right now because it's not suffering confusion. Whereas HP has had more than its share of scandals, and Dell is caught up in a custody battle, Lenovo is sailing smoother waters. This allows it to align its pillar messaging with its channel efforts, again, without confusion. No one in our community is asking: "What's Lenovo up to?" Rather, Lenovo is leading by example and appears to be widening the gap over the other OEMs.
"The equation is working," commented Chris Frey, Lenovo's Channel Chief for North America. "Over 85 percent of the North America revenue goes through the commercial channels, topping $1-billion this past quarter. Scalability is a success factor for Lenovo, and we had 30 percent more resellers/business partners join the channel, and all resellers/business partners are selling MORE product."
Hats off to Lenovo, because growing the number of channel participants while simultaneously increasing the sales revenue per channel partner is like fighting two wars at once; It's like contra-dilution. Frey added: "Our hand-to-hand combat strategy is the secret sauce. Our coverage approach has Lenovo representatives calling on more business partners and essentially implementing a seller-to-seller engagement model of relationship establishment, increased trust, better training leading to discovering increased margins."
Looking ahead, I foresee Lenovo addressing two issues:
Sustainability. With such consistent upward success, can it keep the increases coming? At what point does the "law of large numbers" kick-in?
Rumors. Frey and others at Lenovo declined to comment on a possible BlackBerry acquisition. It would be an interesting mix because Lenovo (and Frey) emphasized mobility as a growth area in my 1:1 analyst call earlier today.
By the numbers
Worldwide:
#1 PC manufacturer

#3 in smart connected devices

Highest WW market PC share 16.7 percent

7-quarters of outperforming the industry

Exited the first quarter as #4 as in phones/tablets
North America:
Revenue 18 percent increase.

14-quarters of double-digit growth

PC market share was 10.1 percent; up 1.7 percent