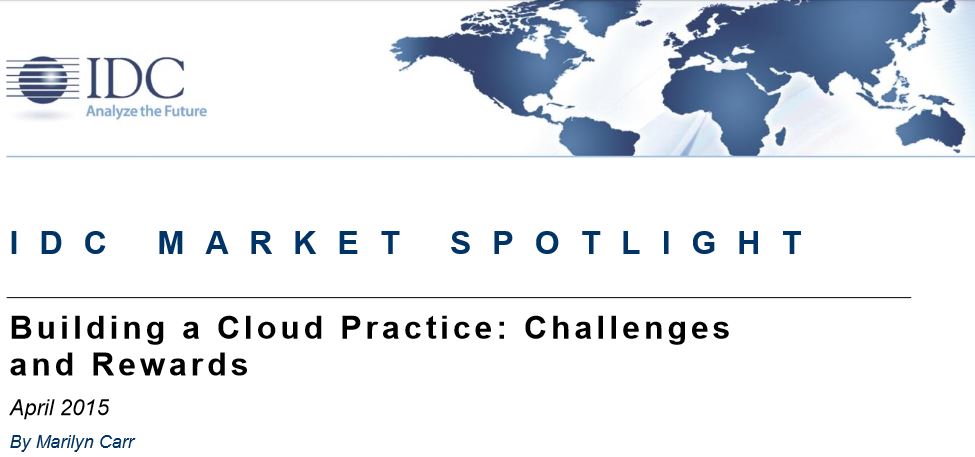 Good morning – Harry here with out-of-band special edition article concerning an amazing IDC study I have just reviewed. As part of my daily activities as your Office 365 ombudsman and independent community advocate, I take my responsibilities very seriously. So when I read Marilyn Carr's "Building a Cloud Practice: Challenges and Rewards" article, I hit the POST button to get it to you as soon as possible. This is a MUST READ! I'd offer it defines a generation of SMB IT Pros much like the classic book "In Search of Excellence" defined a generation of MBAs (present company included).
Essentially, Carr hits the topic head-on and doesn't sugar coat the challenges of going from a server-side on-premises world too often defined by break-fix to an Office 365 or cloud consulting practice. Here conversation on the danger of the revenue trough is classic. As I've said before and we've validated with our Office 365 Nation workshop tour this spring, the business model surrounding Office 365 consulting is very different from my beloved Windows Small Business Server (LOL – RIP).
You can download the white paper here: http://bit.ly/1IYrPkx
To give you a quick view into Carr's landmark work, some of the change agent topics include:
The Shift to Recurring Revenue

The Changes in Sales Model

The Changes in Delivery Model
My bottom line. My job is to peruse the body of knowledge concerning Office 365 as an analyst and share with you the most relevant and interesting information and conversations. In a sense, I'm an analytical filter. This study has my endorsement for you to read. Agree with me or not – lemme know what you think: This email address is being protected from spambots. You need JavaScript enabled to view it.
You can download the white paper here: http://bit.ly/1IYrPkx
ANAYST DISCLAIMER: This white paper study by Marilyn Carr was prepared by IDC and funded by Ingram Micro and Microsoft. I do not own any stock in IDC, Ingram Micro or Microsoft.