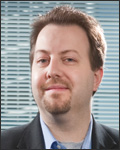 Yesterday while attending the ChannelPro SMB Forum in New Jersey, I was happy to see many of my channel industry friends and colleagues, and it was even better that we got to gather for some good networking, educational sessions and vendor exhibits. I noticed, however, that one of my industry colleagues that I was expecting to see, AVG's Director of Partner Community Dave Sobel, was not present.

I was looking forward to meeting up with Dave, since he and I have known each other since back in the day when he was the owner of his MSP firm, Evolve Technologies, and I was the Editor of another channel publication. I figured Dave would be there, especially since he was scheduled to deliver one of the keynote addresses yesterday at the event.
It was much to my surprise, however, when I arrived at the event, and instead of Dave Sobel taking the stage, the address was given by Vince LaPietra, AVG's Sales Manager for North America.

While LaVecchia did just fine with his keynote during the event, I still wanted to know what happened to Dave, and why he wasn't up on the stage in the event's ballroom??? Maybe he had a last-minute conflict, but as anyone in this industry knows Dave, they are fully aware that when he says he's gonna show up, then he always does right by the group he's speaking for.

I called Dave's extension at AVG this morning, and instead of him answering live, or getting his voicemail, I was kicked back to a switchboard operator, and when I asked to speak with Dave, she politely told me that "he was based out of Florida," and that the best way to reach him was email. When I asked if she could give me his contact number and/or transfer me, she replied that she didn't have that information. Hmmmm, I always thought Dave worked out of the metro DC area???

Going a little deeper, I checked Dave's LinkedIn page, and he lists his headline as: "Director of Partner Community, Level Platforms," as ending last month. I am not sure if this is because LPI is now part of AVG, and the two companies are now one, or rather, it is because of another reason of which we are not aware of?

Also, Dave and I are Facebook friends, and I have noticed that for the last few days, he has been posting status updates regularly discussing leisurely activities, such as trips to Target, playing video games and watching movies.
I currently have a call into AVG's Public Relations firm, Waggener Edstrom, for comment, and they have informed me that they are checking into this with AVG. We will keep you posted on this current "mystery," and any additional information that we uncover.