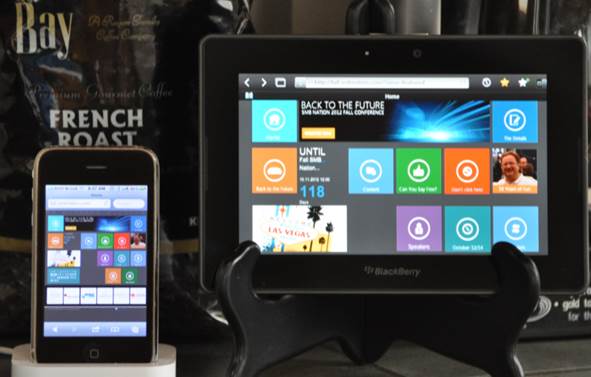 We're celebrating the 10th anniversary of THE fall conference with our "Back to the Future" theme. Essentially, we're honoring the past and looking forward to the future! What's old is new, such as time-sharing is now called cloud computing! You get the point.
A couple of shout-outs!
Learn more! Please watch today's SMB Nation Fall 2012 launch webinar HERE so you can fully educate yourself on this amazing educational opportunity this fall. Think of this 45-min spent watching our launch webinar as an investment in making the absolute best decision regarding the fall conference. It's back to school for geeks!  
Mobility friendly! Please tour our site with your tablet or smartphone BEFORE you proceed any further. Visit fall.smbnation.com and enjoy our METRO interface designed for mobility.
Content. The best is yet to come. We are selecting the final six technical sessions as I write these words. In a moment, I'll explain the selection methodology, but I wanted to strongly encourage you to bookmark our fall web site and check back for MORE information periodically. Also understand that over 2/3 of our content is TECHNICAL, on the GeekSpeak track. The remaining 1/3 is the all-important BusinessSpeak content that aligns directly with our pocketMBA program (think of this as the Executive MBA weekends you've seen Kellog, Wharton, Stanford and the like host in major cities).
Polling Data. I'll write this up again as a separate blog with more details, but our recent fall conference survey had nearly 100 responses, where we detected SMB technology content trends that should be of interest to you. Here are the "election results" ranking 1 through 14 categories (one being best and reflecting what YOU want to DISCOVER at the fall conference).
Windows 8

Small Business Server (SBS)

Cloud

Mobility

Security

BYOD

Virtualization

Database (Big Data?)

Migrations

Web Development

RMM

Telecom/VoIP/UC

Social Media

Other (numerous individual replies)
My analysis is this: We're right in the launch zone for Windows 8 with our early fall schedule so count on robust content at our show in Win8. SBS is a given. Cloud has moved up significantly in your content preference from even last year. So you're either less hostile, accepting or even (dare I say) excited about cloud! Mobility is hot. Security is an evergreen. BYOD actually scored lower than I anticipated, but to some extent it is a cross-over category with cloud and mobility. The migration topic was a great disappointment in the polling falling fast, far and hard. Jeff Middleton launched the SBS migration kit at our 2004 fall conference and either everyone has migrated, knows how to migrate or is burned out on migration content (Jeff is on a week-long cruise in the Caribbean having just completed yet another multi-day SBS migration conference in New Orleans so I haven't been able to reach him for comment). We'll look to our community sponsors to lecture on RMM for you. I was disturbed to see the telecom content score so poorly, so we'll likely de-emphasize that conversation (guess a lot of you never recovered from the Response Point peak/era/departure?). Another shocker was how you de-emphasized social media. I guess you're tweeted out, facebooked up out your ears and already linked up. Essentially, social media finished in last place and maybe that speaks a bit towards the disappointing Facebook IPO. Hmmm…
Committed Speakers. We never announce a speaker prior to a commitment, so today we can report the following hot shots signed up to deliver world class content:
Attend for FREE! I am announcing the new pocketMBA program on July 12th at WPC and the first charter cohort will commence on October 12th at SMB Nation Fall! If you sign up as a charter student for the pocketMBA, I'll give you the SMB Nation Fall conference for free. This is limited to the initial charter cohort of 30 students. Contact me at This email address is being protected from spambots. You need JavaScript enabled to view it. for details on the pocketMBA admission process.
Have FUN! Read our ten year conference history and look at the pics HERE. Has it REALY BEEN TEN YEARS!?!?!
Starting Gate. SMB community notables launched at SMB Nation Fall events including this short list:
Amy Luby gave her first speech at the original SMB Nation 2003 event. Luby has gone on to great success in the SMB community including launching MPMSPN.COM and an executive role at Synnex.

In our audio tape recording, Arlin Sorensen (founder, HTG Peer Groups) claimed in his "Pump Up The Volume – Taking Your Business To the Next Level" speech at SMB Nation 2004 has him recite this was his first speech (or one of his first speeches)

Jeff Middleton launched the SBS Migrations kit at the SMB Nation 2004 event.

Alex Rogers (CharTec) won an Expetec franchise ($50,000) at the SMB Nation 2007 event and went on to develop the "Hardware As A Service" (HaaS) concept.

Channel Eyes with Bob Godgart and Jay McBain was launched at SMB Nation 2011

And many other notable careers were launched at SMB Nation Fall over the years! 
See you at the 10th annual SMB Nation Fall conference, October 12-14. Where it all begin!