by Karl W. Palachuk Small Biz Thoughts / Great Little Book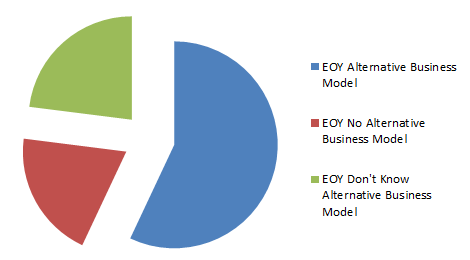 The last two weeks have been a wild ride for SMB consultants who built their businesses around Microsoft's SBS server and the Small Business Specialist designation. In a one-two punch, Microsoft surprised – and even shocked – a number of people. First, they put an end to the SBSC (Small Business Specialist Community) program and replaced it with a Small Business Competency. Second, they announced that Small Business Server Standard Edition would be discontinued and the Essential version would be folded into the Server 2012 family.
To many SMB consultants who have literally built their businesses on SBS, these announcements were a big shock. The initial reaction on Yahoo Groups, message boards, Facebook, Microsoft blogs, and email lists was swift and powerful: IT Pros felt surprised, disappointed, and confused.
Many of our businesses "grew up" on SBS. It has been the core of our businesses for more than ten years. Fifteen years for a few! In addition, the five-year-old SBSC program had become central to our marketing strategies and branding.
After the initial shock came a lot of questions. What about bandwidth? Is Office 365 the only answer? What replaces Exchange on site? How about remote access? What are the licensing limits to Server 2012 Essentials?
Small Biz Thoughts decided to put out a survey to gather some information from the community. The survey was conducted the week of July 9-13 among 498 IT professionals in twenty-three countries.*
In all, 65% of the respondents are currently in the SBSC program. Of those SBSCs, 58% say they either will not or probably will not seek the new Small Business competency, compared to 65% overall among respondents.
Two messages are very clear: There is widespread surprise and disappointment over the demise of Small Business Server. At the same time, most small IT shops are already selling some cloud services and are confident that they'll have a new business model in place by the time SBS is no longer available.
In all, 62% of respondents were either somewhat surprised or completely surprised by the announcement on that Microsoft was will discontinue the Small Business Server line at the end of 2013. The surprise for most partners was not the end-of-life announcement for SBS Standard, but mostly that it would come so soon – and with no extended Software Assurance.
As far as we can tell right now, Microsoft will no longer have a combination server with special pricing for small businesses. For more than fifteen years, SBS has been the preferred server product for small businesses due to its unique combination of features and low price. The survey revealed that many partners will be seeking alternatives. And that opens the door to non-Microsoft technology. One respondent wrote, "SBS will be missed. It was familiar and comfortable for my clients.  We'll need to sell them on an alternate solution, not necessarily from Microsoft."
Respondents told us that they have looked at Microsoft's small-end server offerings. 25% have looks at SBS Essentials only, 2% have looked at Foundation Server only, and 49% have looked at both products. In total, 76% of the IT Pros in the survey have examined one or both of these products to see where they might fit in a future business model.
Many respondents view the SBS announcement as a move by Microsoft to push businesses into cloud services. Here the reaction was mixed. Many expressed frustration at being pushed toward cloud offerings before their clients are ready. Still, most IT consultants are very optimistic about the future.
The survey revealed a wide range of responses regarding the cloud. Many businesses simply don't have the reliable, high-speed Internet access required for cloud services. This is particularly true in rural areas and in many countries outside the United States. But most IT Pros are confident that they'll have alternatives in place in the next 12-18 months. Partners in Canada and Australia specifically mentioned concerns about having to host data on servers outside their countries, in violation of their laws.
Looking to the future, 57% of respondents believe they will have an alternative business model in place by the end of next year. Only 20% believe they will not have an alternative in place. As for cloud offerings, 47% believe they'll have a successful cloud strategy in place within twelve months while 28% believe they will not. In both cases, about one fourth of respondents put themselves in the "maybe" category.
In terms of adoption rates, 60-70% of all respondents either are offering cloud services of some kind, or plan to in the next year. Not all cloud offerings are the same, though. Many companies are very happy with cloud-based backup solutions, but want to keep their email servers in-house. In fact, the need for an Exchange server (or alternative) on premise was mentioned more than anything else in the comments.
Many respondents were also quite concerned about the viability of Microsoft's hosted office suite, Office 365. Said one consultant, "I don't see Office 365 as reliable enough to recommend, and most if not all of our clients are reluctant to pay per user per month for hosted exchange and prefer on-premise solutions." Other consultants were concerned that Office 365 was more expensive for end-users and less profitable for IT consultants.
Another respondent expressed concern that Microsoft would leave gaps in their product offerings for small business: "The SBS extinction is too early for Microsoft's own good and creates the portfolio gap that Ballmer specifically stated that he would not allow."
Respondents were very eager to present their opinions. In all, 204 respondents left comments, totaling more than 10,000 words. Some expressed frustration over the changing technology while others were eager to see what's next.
In terms of involvement in the IT Pro community, 83% currently participate at some level in an "IT Pro or SBS User Group." Going forward, 34% expect to be more involved in the SMB IT community in the next year. At the same time, 24% expect to be less involved.
Overall, the survey results were a mixed bag for Microsoft. The immediate reaction is disappointment over losing a small-business-specific marketing program and a great product line that has historically been priced right for small business. But this is a fast-paced industry and most consultants are confident that they'll find the right products for their clients as evolution to the cloud continues.
I'll let a respondent have the final word: "Loved ya SBS, but it's time to move on."
* The 498 respondents represented the countries of Australia, Belgium, Brazil, Canada, China, Denmark, Finland, France, Germany, Greenland, Hungary, Ireland, Israel, Italy, Netherlands, New Zealand, Philippines, Puerto Rico, Slovenia, South Africa, Sweden, Switzerland, the United Kingdom, and the United States.
Summary results of the survey are posted on Karl's blog at http://blog.smallbizthoughts.com/2012/07/smb-community-survey-results-part-1.html.
Complete survey results are available at www.SmallBizThoughts.com.
About Karl W. Palachuk
Karl Palachuk is an author, speaker, and blogger in the SMB space. He is the author of nine books, including Managed Services in a Month, Service Agreements for SMB Consultants, and Relax Focus Succeed. He focuses exclusively on small business IT consultants and the channel vendors who support them. He is a popular blogger who consults with IT consultants on how to improve their business practices.
Palachuk has won a number of awards for small business consulting and community development. He has been honored on SMB Nation's "SMB 150" Influencer list every year that it has been published, and he is a past recipient of the SBSer of the Year award. For more information, visit www.smallbizthoughts.com.