SMB Nation Reveals Results of Its 7th Annual Salary Survey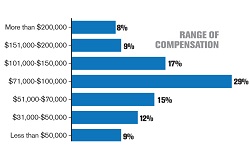 By Anurag Agrawal, CEO, Techaisle
SMB Nation's 2013 Channel Partner Salary survey reveals that the average salary of channel partner employee is US$101,062 which is up 9 percent from 2012 when it was US$92,544. Analysis of the salary ranges shows that the highest percentages of employees fall within the US$71,000 – US$100,000 gross salary range. In fact, slightly less than one-third get a salary within that range.
The increase of 9 percent from 2012 to 2013 is not out of place as channel partners are showing optimism not only in their business but also their compensation structure. When specifically asked about their compensation outlook for the next one year, 51 percent are expecting an increase in their compensation.
To read the full article, check out the latest issue of the smbNATION Magazine here!