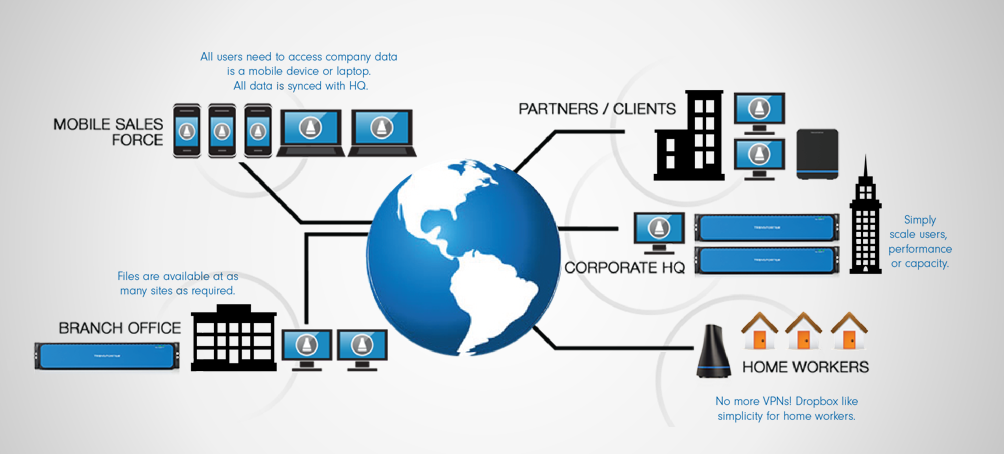 Earlier today, Connected Data, released its Transporter Genesis platform. I had the chance to talk with Connected Data's VP of Marketing, Jim Sherhart, and COO, Russ Johnson, and they gave me an overview of the Genesis, as well as their take on the current Channel response to the Cloud.
I'll dig right in to the community connection. Jim and Russ spoke to me about what they are seeing in the current Cloud market as it relates to file sharing. In particular, they said that cloud services have a user base of over 400 million, and that 97% of these users don't pay for these services. Herein the dilemma lies: these services still cost the hosting company money, so these independent cloud file share organizations, like Box, are actually seeing a deficit, paired with competition from larger file-share organizations.
Beyond the tenuous market environment of today's cloud-based file share organizations is the matter of security. Jim brought up a great point during our discussion, that it took the infamous celebrity photo leak to get the attention of consumers. SMBs, on the other hand, are becoming well-versed in asking "Is my data safe?" first. In addition, Jim and Russ shared data that showed a growth of the hardware side of storage. Add to this the fact that the "pure cloud" model is seeing a slow growth rate, and Connected Data has its inspiration for an answer to the file-share security question.
Connected Data developed their first cloud appliance, Transporter, aimed at the SMB channel, to gives users the "Dropbox Experience," while keeping all data stored on the appliance only (100% private). To sync/backup/etc., an organization can place an appliance at their main office, and a second appliance at a home, second office, etc. All data shared between appliances are encrypted and sent over the secure network, and only to approved devices. Also, the idea is for MSPs, VARs, etc. to be able to "plug and play" the device. No networking background is required to get the appliance set up, just a plug and a visit to the Connected Data website.
The Transporter Genesis is the next step in the appliance evolution. As Jim and Russ mentioned to me, the organization, although focused on the SMB channel, was getting a lot of attention from larger enterprises, who found the appliance to be a good fit for their file sharing needs, particularly with a growing percentage of unauthorized cloud storage use within their organizations. The Genesis model is aimed at the larger enterprise sector, but is still optimized for smaller companies looking to handle a lot of data. Both of the Transporter appliance models retain many of the benefits of public cloud, including a public API for communication with 3rd party apps, the ability to sync files, integration with Microsoft Active Directory, and the ability to access files from mobile devices. For more features, please visit Connected Data's site here.

Here's the interesting part, though. Connected Data only charges on a "buy and own" basis, no monthly fees. Jim drew a parallel to the Skype disruption in the communications sector. Much like Skype, the appliance uses the native infrastructure of the user, does what it needs to, and gets out of the way. Also with this model, Connected Data is working to provide opportunities to its partners. For example, an MSP can set up an appliance at the customer site, and one at their office, and have more control over customer data security.
Also on the partner side, Connected Data rolled out their Excelerate Partner Program, through which MSPs, VARs and other IT Pros can gain Authorized status and receive deal registrations, as well as special discounting. More information about this partner program is available here.