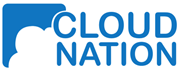 Cloud Nation today announced the launch of its Cloud Solutions Portal designed to allow MSPs (VARs) to deliver enterprise quality cloud solutions to small and medium size businesses.
Co-founded by industry veterans Tom Poole and Harry Brelsford, the Company's announcement builds on a legacy of fostering the growth of IT professionals. An award-winning entrepreneur, Poole was involved in developing industry-leading B2C and B2B online communities. Over the last decade, Brelsford has grown SMB Nation into the largest independent community of SMB IT Professionals in North America
Because cloud computing is completely changing the way SMBs manage their data, communications and infrastructure, during 2012, members of the SMB Nation community began asking both Poole and Brelsford three basic questions:
1. How do we learn more about the cloud?
2. What solutions are available to help us work with clients interested in the cloud?
3. How do you make money in the cloud?
These questions, coupled with the fact that cloud computing is expected to be a $176 billion dollar business by 2015, led Poole and Brelsford to join together to work on delivering a leading cloud platform for the SMB Nation community, which is based on more than just technology—it also includes education, certification, a unified billing platform and significant sales and marketing support.
The launch of the Company's Cloud Solutions Portal is also an opportunity for MSPs and VARs to reserve a Founding Membership within this new Portal. As a Founding Member of Cloud Nation, you will have the ability to participate and have access to the following components:
· Exclusive entry into our unique "all-in-one" cloud platform, available only to members.
· Technical and business education to get you started in cloud consulting.
· 100% Channel Friendly Platform.
· Margins between 15% and 30% monthly.
· Access to our unified billing engine, designed specifically for cloud based businesses.
· Member-to-member referrals (an easy and effective way to grow your business).
· A personalized, custom-built website.
According to some estimates, the number of small businesses embracing cloud computing will triple over the next three years. Recent surveys indicate that small and medium sized businesses are becoming increasingly frustrated when looking for an all-in-one cloud solution. With six out of 10 small businesses always willing to consider cloud solutions and four out of 10 preferring them, Cloud Nation's announcement today appears to be timely.
"We are extremely excited about the platform we've developed over the last year. It is the result of significant input from our technology partners, our community of IT Professionals, and small and medium size businesses. They were all frustrated with the cloud ecosystem and we thank them very much for their guidance in the creation of Cloud Nation," Poole said in a press statement released this morning.
Members of the SMB Nation community have also been excited about the anticipated launch of Cloud Nation's Portal. "The effort required to put together Cloud Nation's platform simply isn't in the reach of your typical IT Professional. The effort it would take to negotiate deals with top technology partners, develop a platform to deliver unified solutions and then create the support platform to service is mind-numbing," said Jay Weiss, CEO of Los Angeles-based Computer HMO, and longtime SMB Nation member. "In this industry, the only constant is change. For us to develop and manage diverse products ourselves is just not in the cards. Cloud Nation has delivered a simple and elegant solution that unites the cloud eco-ystem. I'm excited and glad I've gotten in on the ground floor."
To learn more about Cloud Nation, go to www.cloudnation.co, or call (800) 550-1424. You can also go to: http://secure.cloudnation.co/whitepaper/ to download our free white paper, which discusses why cloud is one of the biggest business opportunities available today.