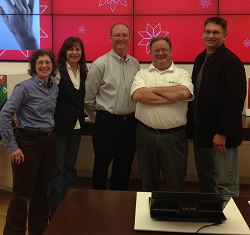 We're nearly halfway through our current Q4 segment of the "Million Mile Migration Madness" tour that encourages you to migrate away from Windows XP, Server 2003 and Office 2003. I feel like I've seen extremes in the weather pattern, but that's a whole another story. The other day in Denver, with the temps below zero, a handful of hearty SMB IT Pros braved the elements to attend our event in an empty southwest Denver mall.
Pictured: These folks traveling in -10F weather on a weeknight to attend the Denver workshop! It was a night fit for neither man nor beast.
So what have we learned thus far on the tour? Basically, we've only just begun. The reality is that SMB IT Pro partners are ramping up for the forthcoming surge in April 8, 2014 deadline-related migrations. Customers aren't yet hearing the message loudly with the holidays upon us, etc. So this is a great time to plan for what certainly will be a chaotic time in SMB IT sphere starting in early January. I personally predict much work will occur in April – June as there's nothing like an expired deadline to motivate people!
We've also updated our conversation. What started as a focused Windows XP migration conversation has been updated to a broader "capitalizing on disruption" theme. There are several reasons for this. First, you asked for it. You, the SMB IT Pro, wanted more content above and beyond a relatively simple topic. Simply stated, you wanted more meat in these presentations! Secondly, the nature of a migration (also known as conversion) is disruptive. And that's where fame and fortune are created! When you introduce the chaos of the end-of-support April 8, 2014 deadline(s), you put everything in play, well beyond computers. For example, we have had extended conversations about the role of telephony and UC (I was surprised about how much folks wanted to learn about OOMA, one of our sponsors and SMB communication solutions provider) and cloud-based storage with Carbonite. To summarize, a migration turns everything upside down and that's the "new new" approach we are taking to our workshops.
You can attend the workshop of your choice over the next 45-days by looking here: http://xpmigrations.com/events . This week alone we are in Austin, Houston and San Diego. Stop by one of our events and say hello!