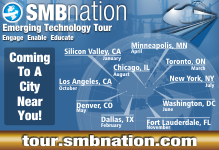 We just received news that tickets for our SMB Nation Emerging Technology Tour stop in Dallas, TX have been picked up by sponsor, D&H! This means that the first 100 registrants are complimentary!
Tour Stop: Dallas, TX
Date: February 7, 2014
Location: Microsoft Dallas
Registration and Info: http://tour.smbnation.com/dallas/
Complimentary Code: DandHTicket2014



Here's a look at what the Emerging Technology Tour is all about:

What you get?
Hands-on deep dive into the changes and "gotchas" in Exchange 2013.

Four-hour deep dive into Powershell and its uses to replace the wizards that will no longer be available in Microsoft server products.
PowerShell Instructions on automating many of your day to day processes and a disk of tools and resources.

Learn SOPs Standard Operating Procedures that will instantly increase your profits with Karl Palachuk.