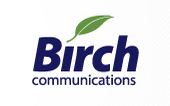 Today, the wholesale division of Birch Communications, Birch Carrier Solutions, announced the appointment of Greg Hogan as the new Director of Business Development, Wholesale Services. Hogan joins BCS from Ernest Communications, an organization that is currently undergoing acquisition by Birch.
Hogan brings over ten years of sales, marketing and client service experience in the IT field. Vincent Oddo, President and CEO, Birch Communications, spoke a bit about the appointment in a press release today: "As we expand the management team for our wholesale business, this change will benefit all of our wholesale clients who utilize Birch IP-based telecom and broadband services. With Greg's help, we plan to expand our wholesale portfolio in the near future, with new territories, new products and new clients."
Birch Carrier Solutions also announced that they have added six new wholesale clients: 382 Communications, Belgacom, Bullseye Telecom, Primus Telecom, Staratos and Telaris.