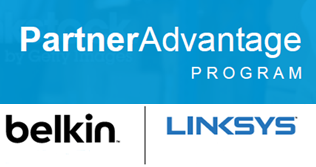 Yesterday, Belkin International announced the debut of its new PartnerAdvantage Program, a reseller program designed to support the growth of SMB IT Professionals. As many of you remember, Belkin acquired Linksys in March of 2013, and the organization has been able to offer both power management solutions, as well as infrastructure solutions ever since.
I was able to speak with Belkin's VP of Product Management, Mike Chen, a week ago, and he went into the finer points of this partner program with me, as well as some new product announcements (to be covered in a later blog). To begin, Mr. Chen explained that this new partner program combines the best of both Belkin's and Linksys' existing partner programs, and that it is open to all current partners.
The PartnerAdvantage Program is free to join, and has five tiers: Authorized Partner Basic, Authorized Partner Elite, Silver, Gold and Platinum. As of this writing, all partner tiers are able to access online sales and marketing resources, online sales training, deal registrations, promotions and exclusive channel communications. As partners move up the tiers, however, they gain access to more lucrative features, such as:
Onsite training

Ability to participate on the PartnerAdvantage Partner Council

Pre- and Post-Sales support

A share of Market Development funds

Access to Enterprise Marketing Subject Matter Expertise
You can view a full breakdown of Belkin International's five PartnerAdvantage Program tiers at the site here.
For existing partners, both the Belkin and Linksys partner programs will be available for the next few months, to ease the transition into one partner program.