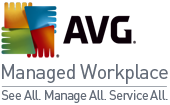 AVG Technologies is now offering MSPs (for a limited time) an RMM swap promo for partners that had previously been using packetTrap, the platform acquired by Dell from Quest Software last year.
The promo, which is available from now through November 2013, offers AVG Managed Workplace RMM platform at no charge to businesses with existing packetTrap RMM licenses.
"Earlier this month it was reported in the media that packetTrap Remote Monitoring and Management products are at end of life and no longer being developed," said Mike Foreman, General Manager, SMB, AVG Technologies. "We can immediately offer the advanced AVG Managed Workplace product to help packetTrap MSPs ensure continuity of service to their customers and further develop their business. We are offering the opportunity to avoid any shortfall in new features or support as they move into the future. AVG Managed Workplace is a core component of the AVG SMB product portfolio and its program of continued investment. Its hybrid agentless cloud-based architecture allows MSPs to comprehensively manage the end-to-end IT experience for every client the MSP looks after."
Since acquiring LPI Level Platforms in June, AVG's Managed Workplace RMM platform now provides detailed visibility and unified management of the entire IT infrastructure including all devices, applications, networks and cloud, while providing unmatched ease of use, security and control.
Under the terms*, AVG will offer AVG Managed Workplace for the remainder of the term of the existing RMM contract, provided MSPs agree to a paid subscription for the same period to begin at the expiration of the term.