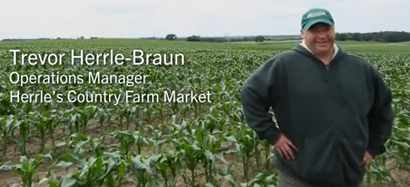 It's true that BlackBerry has been in the news lately, but I'm not going to rehash the conversations currently being played on CNBC. You can go see those for yourself. Rather, my monthly series, "How BlackBerry is that?" continues where my teen-age son, and I, seek out the most interesting BlackBerry stories of the year. Hands down, for August, it was the AgNerd!
Trevor Herrle-Braun and his family run a 600-acre, 150-year-old family farm and country market in St. Agatha, Ontario (near three Ontario mid-sized cities), serving generations of customers fresh fruit and vegetables between June and early November. It's the kinda idealic and bucolic "Polaroid SnapShot" we haggard SMB IT Pros day dream about as an alternate lifestyle! Speaking of "alternatives," Trevor's "other" personality away from farmer is that of AgNerd (follow him on Twitter
@HerrlesMarket
).
An upbeat and likable guy, Trevor has been using BlackBerry solutions for more than a decade to efficiently and effectively run this 80+ person SMB. "I was literally first in line for us when the '10' launched in January," Herrle-Braun shared. "Interestingly, I prefer the Z10 over the Q10 because the fields are dusty, and the traditional keyboard on the 'Q' doesn't meet my performance needs like the 'Z' does."
But the secret sauce to
Herrle's Country Farm
is the use of BlackBerry for weather forecasting via radar maps. Via mobile device or PlayBook, this sophisticated farming operation can leverage its dependency on whether to make the best decisions possible. "We have three PlayBooks in our tractors setup with 4G wireless," Herrle-Braun offered. Its use of technology is documented
here in this video
.
Herrle-Braun also uses the BlackBerry's on-board apps such as the spreadsheet for record keeping for important tasks like the application of pesticides. Such documents can also be synched via Dropbox.
The only thing I didn't ask was whether his family farm grows BlackBerries (LOL). Maybe next time!