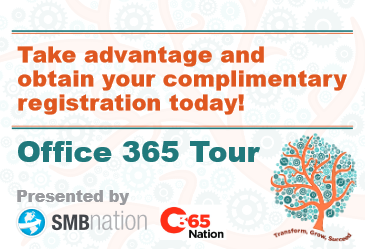 SEATTLE – Be sure to mark your calendar to attend the inaugural *independent* Office 365 community meetings occurring in seven NFL cities in the first part of 2015. Already we are experiencing an overwhelming response and we are limited enrollments to 150-attendees so we encourage you to sign-up today. Learn more here: o365tour.smbnation.com.
Who should participate?
Office 365 IT Pros

Office 365 MSPs

Office 365 Consultants

Segments: Enterprise, Government, Education, SMB
What will you learn!
Help form an on-going Office 365 community that is independent and professionally managed so you can accelerate your discovery journey about the amazing Office 365 platform and share your experiences. You will rapidly advance your Office 365 migration, deployment, administration and troubleshooting skills.
Sessions include:
Office 365 Click-to-Run Deployment

Line of Business Apps/Integration with Office 365

Office 365 Licensing

Office 365 Migrations

SharePoint Online & OneDrive for Business 101

The Easiest Way to Office 365

Making Money with clients in Office 365

Modern Malware and Next Generation Endpoint Security
Speakers include:
Grant Thompson – independent Hoster with an Office 365 history dating back to BPOS Day One

Melanie Gass – Hosts the "Microsoft Princess" radio show and directs a successful Office 365 consultancy in the New York City-area.

Harry Brelsford – author of 19-books on server technologies and IT Pro consulting,
REGISTER HERE: o365tour.smbnation.com. Read carefully how you can attend complimentary.
Tour Cities:
January 27, 2015: Bellevue, WA

January 29, 2015: Silicon Valley, CA

February 26, 2015: Los Angeles, CA

March 26, 2015: New York, New York

April 16, 2015: Chicago, IL

April 30, 2015: Dallas, TX

May 14, 2015: Washington D.C.
Who are we and why are we doing this?
We are long-time community members how don't work for Microsoft and value our independent analysis, research, workshops and community activities. Our intention is to develop a nationwide network of independent Office 365 community groups and meet quarterly. In short, we can tell it like it is and real world Office 365 best practices, something that is difficulty for traditional Microsoft events to accomplish. Learn more about us here:
Thank you for your consideration in participating in our inaugural Office 365 Community Group meetings in the first part of 2015!
Hurry and sign-up here: o365tour.smbnation.com