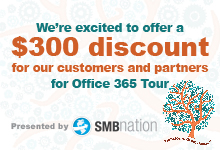 We're hitting the road in 2015 and bringing the show to you! From popular demand and many request we are focusing this year's tour on Office 365.
The Office 365 Tour has so many reasons to attend: The content, the relationships, and the fact there is no travel required.
Join us for this one day educational event which offers over 6-hours of pure Office 365 content, plus the ability to join the new network of Office 365 user groups. Benefit from peer sharing and professional networking. Leave with technical and strategic business knowledge you can apply immediately to Office 365 matters.
Below, you can see some of the sessions so you can get an even better idea of what we have planned. Of course, the awesome sessions are reason enough to attend but don't forget about the hallway networking, exhibit hall, and incredible speakers and more all add to the experience.
Sessions:
Have you registered? If not … seriously, don't wait any longer.
Want to learn more? Please contact us at 206.201.2943 ext 105