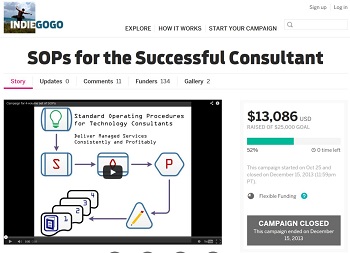 Long-time leading SMB influencer Karl Palachuk is about to go down under to Australia with this staff for an SMB IT roadshow and a wee bit of personal vacation time. Last week I caught up with Karl to "check-in" before his departure, and it turns out Karl has big news. He has just released a comprehensive four-book set (Karl reports he has written over 15-books now). The book set is a turnkey, I'd offer almost franchise approach, to running a business from the front office to the back office. To be honest, this book series would make a great one-year, two semester local college series of courses.
There are a couple of interesting facts concerning this book set. First, it's largely a compilation of Karl's "Standard Operation Procedures" (SOP) Friday blog posts and online show. So the content has been vetted and refined. Second – Karl used a crowd sourcing funding entity to pay for the book. Over 130 "investors" funded $13,086 towards Karl's goal of $25,000 to write and publish his book offering (see photo above). It's very smart. He offered a super-duper deal that allowed the investor a cut rate price on his offering. Karl received the necessary capital upfront to fund his efforts.
I guess that point is this. Karl represents the new-new thinking we need in the mature SMB IT community. I've learned something from researching this blog. I hope you have as well. The books can be purchased at http://sop4smb.com/.