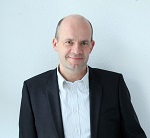 I was able to meet with Open-Xchange CEO, Rafael Laguna (pictured) this afternoon at the OX booth in the Parallels Summit Exhibit Hall, and it was a rather eye-opening experience. First of all, Laguna spoke to me about the history of his organization.
Laguna is one of the founding members of OX, which began as a company in its own right in 2005, but that it started as a smaller organization. He explained that their story was a little backwards, as they got the customer first, noted hosting company, 1&1, Inc., and then launched their new venture. Having 1&1 as the launch customer gave OX an edge, as they had to scale with 1&1's well-known growth.
Open-Xchange was originally started as a US Inc., but has most of its operations in Germany. Laguna then explained he and his fellow co-founders started with the idea that email is a major asset. He compared email to phone numbers, in that you can take your number with you to any carrier, but email is stuck. OX was also ahead of its time, in that all solutions were browser-based to begin with.