I was speaking to my friends at SQLSoft3 and they have 30 extra Microsoft Exam Vouchers that they are selling at $20 under their cost. When the 30 are gone, that's it.... so if you are a Microsoft Partner or an IT Pro or Developer who is interested in certification, you won't find Microsoft official certification exams any cheaper. Microsoft has a certification exam quota and SQLSoft3 needs to sell 30 more of them this year; so their loss is your gain!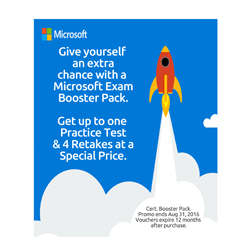 Here is how it works:
Purchase one or more standard Microsoft Certification Exam Vouchers - Use the coupon code of "QUOTA" at checkout and you can purchase your exam voucher for $20 below cost of the usual $165 price (after "QUOTA" discount - $145) or the Plus version with a Practice Test for $190 after the "QUOTA" discount. Buy now and you still have 12 months to register for the exam.
-----
or
------
There is also a Microsoft Exam Voucher Promo that gets you more, but is only good until August 31. Purchase one or more Microsoft's Booster Pack Promo 1-2-3 options and use the promo code "QUOTA" to get $20 off. Microsoft's Booster Pack promotion includes an exam voucher and practice test and/or 4 exam retakes. Note: The Microsoft Booster Pack promotion ends in five days on August 31, so this promo will be gone after that.
If you don't already know, SQLSoft3 is the home of reality-priced IT Professional, Developer, and Security training for Azure, SQL Server, Identity Management, Windows 10, Windows Server, Sharepoint, System Center, Visual Studio, Exchange, Skype and more. SQLSoft3 offers the lowest prices for Microsoft MOC On-Demand training in the known Universe and continues to deliver live IT Instructor-led training to individuals as well as custom training events for national and global companies. Over the past 20+ years, they have trained over 50,000+ IT Professionals and Developers.