For many, this is the brand that needs no introduction. Who can forget this German company with its yellow headphones in your youth, when you listened to the likes of the Allman Brothers, Fleetwood Mac, et al. I remember well, and Sennheiser headphones both revolutionized the listening experience and also kept family peace (so I didn't play my rock-and-roll too loud).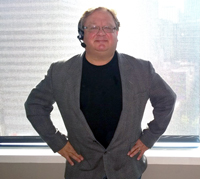 Fast forward the movie and this well-respect brand associated with high-fidelity is not only alive and kicking but more relevant than ever. Sennheiser is now a major player in Unified Communications (UC) headsets. I've put the SD Pro1 to the test these past few weeks, and can report the following:
Supporting multiple call types. The ability to switch between my traditional Polycom VoIP phone and computer-based services like GoToMeeting and Skype is amazing. I can have my traditional calls via the SD Pro1 headset and my phone and then switch to Skype with push button ease for overseas clients. The "switching" has been flawless.
Range. Tested on the 20th floor of a busy downtown Seattle building, the range was impressive. I could migrate around the entire floor (even outside my leased office space) and once rode the elevator down, keeping the session alive until the 18th floor. That was unexpected.
Fidelity. The proof is in the ear of the customer. When using SD Pro1, I repeatedly asked how my sound quality was. I did this for two reasons. First, I wanted to know how well the SD Pro1 actually works. I've heard reactions from "fine" to "best ever." Second, I wanted to practice what I preach. I'm so pissed off at people using UC solutions like Skype for Business and talking into their built-in laptop microphone. The sound quality for computer-based microphones sucks. I refuse to devolve about 15-years to poor quality VoIPy-like conversations. My point is that I've made a commitment to sound quality with Sennheiser and my entire staff is outfitted with the same. Stamp out poor sound quality in UC!
Music to my ears. Returning to my Sennheiser roots, I discovered I can listen to music while working and switch to incoming phone calls with ease. Using the online streaming capabilities of my laptop, I can listen to my beloved KEXP public radio (www.kexp.org) during the day. This hip station streams alternative music that keeps me calm and young at heart.
So find out for yourself if Sennheiser SD Pro1 allows you to step up to the next level with UC.
PS – Sennheiser is a sponsor at this weekend's Fall conference in Redmond! Still time to join us in-person or via live streaming. Visit fall2015.smbnation.com.
by Harry Brelsford, CEO, SMB Nation