Conference calls make doing business easier. Unfortunately, traditional conference call services can be cost-prohibitive and difficult to use for many SMBs. That's why AppRiver recently rolled out dial-in conferencing as a part of its Office 365 service.
Customers using the service can host conference calls for audiences small or large on their computers, cell phones or landlines – often for about half the cost of other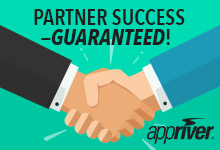 premium services, and managed right from familiar tools like the Outlook desktop and Web clients. For AppRiver's resellers, it's a convenient way to incorporate another critical business function into their practices, saving their customers money and growing their topline revenue at the same time.
AppRiver offers several Office 365 and hosted Exchange plans designed to match the needs of businesses of all sizes. Now, customers can add unlimited dial-in conferencing to Skype for Business at a budget price, just for the users who need it. For most organizations, this price point could mean a dramatic cost savings compared to standalone services currently on the market.
Dial-in Conferencing adds valuable new capabilities to Skype for Business service plans, which already include secure instant messaging, screen, file, and application sharing capabilities for meeting organizers and attendees. For attendees who need or prefer a benchmark dial-in audio connection, the new PSTN conferencing option is the ideal solution.
AppRiver is a Microsoft Cloud Solution Provider (CSP), and helped Microsoft develop the Indirect model that powers the growth of the CSP program today. As a result, AppRiver's channel sales advisors, support team and billing staff have years of experience helping partners price, sell, bill and support Office 365 for their customers. This experience can be invaluable for resellers who are new to Office 365 or who can't or choose not to participate in the CSP program on their own.