By Patrick Houston, long-time industry leader and founder of Media Architects
Who'd have thunk it? Not me. Or not until Harry and I had a recent conversation with Blackberry's David Moellenkamp.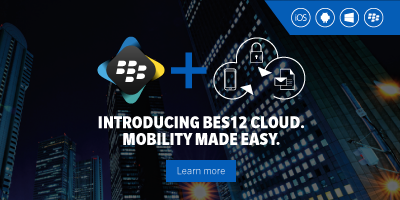 Remember the days when every blockbuster business or government movie character clicked away on a BlackBerry keyboard? Gone. And for a time everything at the Waterloo, Canada, company seemed to go from bad to worse. Its every attempt to reverse its slide — never mind regaining its stature — seemed tone deaf to its customer base, never more symptomatic than its ill-begotten launch of the Playbook tablet.
Even BlackBerry itself admitted to very crux of its challenge in what actually became a prize-winning PR campaign built around the slogan a "From Relic to Relevant." Relic is right. Like so many others, I figured the company was headed the way of those ghosts of business history like Digital Equipment, Palm and Kodak.
But then we talked to Moellenkamp. Ever since John Chen came aboard as CEO last year, BlackBerry has been showing glimmering signs of a comeback. Here's mainly why: It's actively and publicly dispelling any lingering delusions it has of being a leading smartphone maker. Self-awareness is, after all, the first step. Instead, it's embracing its consummate natural strength as a provider of secure communications services (Stick to your knitting!).
By way of introduction, Moellenkamp is BlackBerry's executive director of Enterprise Solutions Development, one of its four key operating units. A Devices group is still one, but it's outweighed by three others, all revolving around enterprise software services. Across the board, the company's moves are being dictated, Moellenkamp said, by BlackBerry's newfound focus on its core strengths of security, productivity, communication, and collaboration for business.
But those are just words. The real issue: Can Blackberry execute on them? But Moellenkamp offers us a few dots. And if its audience can connect with them, well, it just might be on the verge of becoming a player yet again:
Consider just three:
BlackBerry is moving to the cloud. The company has a gem in its mobile-device-management platform, BES12. I have no idea what its name has to do with product. I do have an idea — a good one — that BES12 is a gem. Businesses, especially in highly-regulated sectors like healthcare, remain consummately concerned about data security, and it doesn't take a genius to understand what vulnerabilities mobile devices present. Moving it to the cloud promises to make the EMM-platform promises that much better. It'll make it accessible and affordable faster to more companies, especially small-to-medium-sized ones. And to make it more accessible to a wider swath of businesses, it's going to have to be easier to use. BlackBerry says it is, but we'll have to see because, after all, like beauty, ease-of-use in is the eye of the beholder.
BlackBerry is playing in the Internet of Things. Get this: Secure BlackBerry software powers embedded computer chips in cars, factories, and medical devices. Who knew? The company has data centers around the world transacting 35 petabytes of mobile data a month. It handles peer-to-peer connections with 700 mobile and partner networks. As more things connect to more other things, security will become an exponential concern. Yep, you've got it. BlackBerry has a big ace of spades in its hand.
BlackBerry is acquiring more advanced security technologies. In April, it bought an Israeli company called WatchDox. Even though endpoint security has become all the rage, WatchDox adds a smart, new precaution to the mix: It embeds security into the document itself, allowing it to "travel" with the file no matter where it goes. You can protect, share, and work with it on any device. You can see where it is at any moment. You can control who can edit, copy, print, and forward. Most of all, you can revoke access or delete a file remotely. And by the way, as a company name, WatchDox, I get. Dox, doc, dog, nice.
BlackBerry just reported its second consecutive profitable quarter, and its customer loyalty scores have spiked. It was named the biggest gainer in an annual ranking of 220 big brands, released in March.
It's too early to declare a comeback. According to reports as recently as May 5, CEO Chen was opining the challenge of convincing his own employees that BlackBerry isn't a smartphone company anymore. (Hey, disbelievers, have you been hibernating? Apple, Samsung, Google, and Microsoft have won that battle. But take warm comfort. You're in good company. Nokia, Ericsson, HTC, and Sony are also-rans too.)
Nevertheless, the glimmers are bright enough to suggest that BlackBerry shouldn't be written off as a has-been — and should be considered as channel partner that can add a suite of secure business software services to your portfolio.