Email archiving has been a best practice for many years across all industries, but particularly in heavily regulated industries like financial services, healthcare, energy,
life sciences, government and several others. Organizations have invested significantly in legacy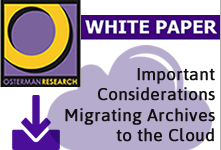 archiving platforms, many of which no longer adequately serve their needs in terms of performance, scale, compliance or feature sets.
Consequently, organizations must find a way to migrate their archived content to new platforms, either on-premises or in the cloud. The latter has become particularly important as a
driver for migration of archived content, since a growing proportion of organizations are moving to cloud-based email platforms, most notably Microsoft Office 365.
However, archive migration is not a simple task: in fact, it's rather complex and requires considerable forethought and planning in order to migrate data reliably while also maintaining the integrity and preserving the full chain-of-custody for migrated data. Further complicating any migration effort is the need to maintain access to archived content for end users and other stakeholders, all while migrating data within a reasonable timeframe and with as little impact as possible on normal business operations.
Migrating from Exchange journal archives or other single instance archive formats to Office 365 – one of the most common types of archive migrations occurring today –
necessitates a paradigm shift because Office 365 does not use the single instance format used for the journal archive in Exchange. While a migration to Office 365 can be performed reliably and in a way that maintains chain-of-custody, it requires a unique approach that will minimize the impact on network bandwidth and that will permit an organization to retain its existing investments in eDiscovery and other
tools. (It is important to note that journal archive migration is different than migration of user archives, a distinction we discuss in this paper)
Download this white paper to learn; key reasons to consider a migration, critical issues to think about during planning & implementation, and the importance of maintaining compliance..