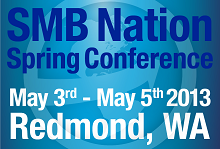 SMB Nation is pleased to announce that we have released a few session recordings from our 7th Annual Spring Conference and SMB 150 Awards Gala for public viewing!
Sessions include:
Welcome Address and Key 1: Why You Should Become a CSP

Key2: Maximize Your Business Success by Partnering With Dell

Key3: Blackberry 10 for Small and Medium Business

S1: 7 Steps to a Killer Proposal That Sells Itself

S2: Accelerating Your Cloud Business

M2: Five Steps to Add CSP to Your MSP

T1: Powerful Server Management

CS3: Beyond Backup

CS5: Winning with Touch: Lenovo Innovation

Footage from the SMB 150 Awards Gala
A big thank you to Varvid for recording these sessions!
Check out all of the sessions here!