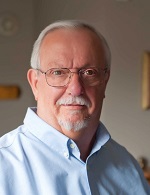 It is with a very heavy heart that we announce the passing of John Iasiuolo, Founder of the Outlook Foundation. John's work with this organization has enabled students and military families across the U.S. to gain access to a computer, thereby granting them the access to education and contact with loved ones that they require.
John passed away in Las Vegas, NV on July 22, 2013. He leaves behind a wonderful family and group of friends. His wife has requested that, in lieu of flowers, a donation be made to the Outlook Foundation, to continue John's dream of accessible technology.

When I joined the SMB Nation family in 2010 as Editor, John was one of the first people that Harry introduced me to. He asked me to call John about helping us with an article on the Outlook Foundation, which would be SMB Nation's official charity over the next couple of years. I enjoyed speaking with John from the very first moments of the conversation, especially when I found out like me, he was a born and raised New Yorker, having moved to Las Vegas from Staten Island, NY, several years before. I remember him joking with me: "Regina, No one is actually from Vegas!" It was one of the funnier moments that I can remember.

The last time my path crossed with John was at SMB Nation's Fall Conference this past October. Since John was local to Vegas, it was relatively easy for him to attend. However, even if the event had been held elsewhere, John would have likely ensured that he was there to support us.

John always gave back, not just to SMB Nation, but our community as a whole, and he will be missed by so many. He made a point to stop by the SMB Nation booth at the fall show, and we said hi, and he told me to "keep up the good work," and that he reallly enjoyed the magazine and reading the blogs on the web site each day. Even for a brief moment, those kind words made me feel good that John felt I was trying to make a difference. Of course, it was not on the same level as he had been doing with the Outlook Foundation, but still, to receive a positive compliment from a highly regarded industry veteran like John, surely made my day.

At the request of John's wife, Christine, the family is asking that in lieu of flowers, donations can be made to the Outlook Foundation so that John's dream may continue to live on.

With additional reporting by Regina Ciardiello