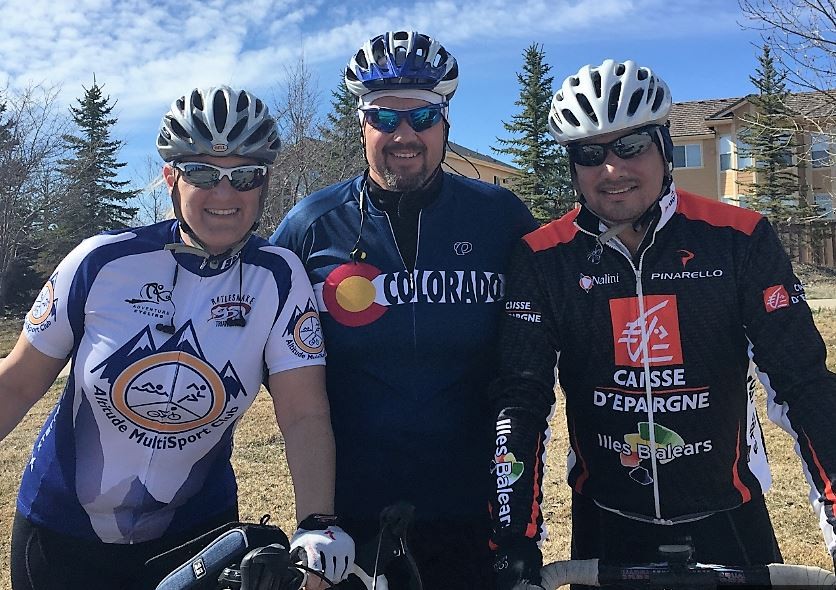 A day doesn't pass wherein some community member shares news on a more personal level. And it's my honor and privilege to parrot out the highlights. In this case, it's a successful mid-sized MSP (Initial.aec) from the Denver-area, Jack Smith, reporting he's formed a team to raise charity funds in the coveted Ride The Rockies tour this summer. Smith's feel good story is also a chance to herald in cycling season. While I'm a daily bike commuter to my start-up, Jack takes cycling in our community to a whole 'nother level. He was on the post SMB Nation Fall conference ride in 2014 where we rode the 35-mile Chilly Hilly in the rain!
BTW – I've placed Jack's story in the Start Over column. That's because he's always up to something new both personally and professionally. In the MSP-side, he has embraced Office 365 to fortify his thriving Autodesk practice.
"Below is what I have sent out previously for the ride and have gotten a great response thus far." Smith said. "As a fellow cyclist, I was excited to let you know that I will be beating myself up on my vacation grinding up a few very big hills! I plan on tweeting from the road so make sure you are following me to witness my pain and successes!" Smith's appetizing appeal is below. Please support Smith and his team as you are able.
Hi Everyone-
We are coming up on 4 weeks since I sent out the email below asking you to help me make the climb for kids. I am happy to say that thanks to the generosity of a few great people, we are currently at $2,025.00! This is fantastic, and I want to say thanks to those of you that have donated. We have been in training mode since I first sent this out and with the recent weather, it has forced us indoors onto the bicycle trainers and cycling videos in order to get our saddle time in. Way more fun outdoors, but good for us nonetheless. We have our first official meeting with Ride the Rockies on the 5th to learn more about what we have gotten ourselves into, and I can't wait as I have quite a few questions. Questions like, will there be oxygen provided above 10,000'? Will they provide replacement muscles and certain body parts along the route? And the most important one, will someone wake me up from my exhaustion induced coma like sleep every morning? These are but a few and I am pretty sure that the answer to these questions will be a hard NO. Doesn't hurt to ask!
Enough about me, let's talk about you and how you can help us make the climb for kids. We are currently at 1/3 of our goal of $6,000.00. I am excited that we have come this far, but I would really love to see us hit at least $4,000.00 if not $6,000. I would encourage you to re-visit this link to check up on us and make a donation if possible. Again, I want to express my gratitude to everyone that contributes and to everyone that offers moral support as well. It will make the climb easier knowing that we have some great people supporting our efforts and the efforts of two great charities. I have included below the context of my original email for your reference.
Please click on the link below to visit our fundraising site:
https://www.crowdrise.com/teambonksclimbforkids2016

Thanks again and look for an update in a few more weeks!

March 5, 2016:
As many of you know, I have shaved my head a few times to raise money for St. Baldrick's. With your help, we were very successful in our efforts and as a bonus, I ended up with a permanent hair style! It feels good to know that every time I rub my bald head, that it was for a good cause. Maybe that's why I keep it shaved, hmm.
Anyway, most of you may also know that I love to cycle, especially in the mountains. This year I have decided to bring these two passions together. I have organized a team of three to participate in this year's Ride the Rockies event (http://www.ridetherockies.com/) as team "bonk". For those of you unfamiliar with this term, it is used when you have completely exhausted your energy during a physical activity and you stop cold. This name was selected as an inside joke between me and my cousin, who ironically enough, is on the team. This is something we WILL NOT be doing during the ride.
I have selected two charities to benefit from our efforts this year. St. Baldrick's (http://www.stbaldricks.org/) and Special Olympics of Colorado (http://www.specialolympicsco.org/). I encourage you to visit their websites and read up on the fantastic things they are doing in the world.
The three of us on the team are not asking for sponsorship, we are asking for a donation and your moral support as we tackle the mountains and our own limitations. As you will read on our fundraising website, all three of us have been blessed with healthy children. My own daughters have always motivated me to try to help others that are not as fortunate and this is but one way to do this.
As I glide down and grind up the mountains, I will be thinking about all the kids that rely on these organizations, all of their struggles and successes and how they continue to grow and succeed. I will also be thinking of my own two girls and how blessed I am and how your donations and support will inspire me to push to the top of every mountain pass and to reflect on the opportunity I have been given to help others.
Please click on the link below to visit our fundraising site:
https://www.crowdrise.com/teambonksclimbforkids2016
I appreciate anything you can give albeit money or moral support.
Jack R. Smith
Principal
initial.aec
[Connect] http://www.linkedin.com/in/jacksmithaec
[Follow] http://twitter.com/initialaec