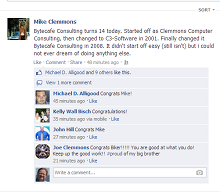 This morning, Harrybbb tipped us off to the anniversary of one of our long-time community members. Mike Clemmons and his company, Bytecafe Consulting, Inc., are celebrating 14 years in the IT field today!
Mike explained via a Facebook post today (pictured right, click to enlarge) that his company, which began as Clemmons Computer Consulting, has undergone a great deal of change throughout the years. Despite all of the challenges, he would not want to be anywhere else, and we are very happy to have him as a member of our community!
Many congratulations to Mike and Bytecafe, may you have many more years of success!