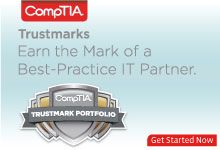 By Miles Jobgen, Director of Trustmark Programs for CompTIA
As one of the most recognizable credentials, or "marks," in North America, the Better Business Bureau logo gives an organization instant credibility and provides a sense of security to current and prospective customers. Its holders have made a commitment to uphold certain standards relating to their transaction processes, professional relationships and community standing. Most of all, a BBB logo instills trust.
Business credentials can be particularly valuable to those in the IT services area, where a solid reputation is often the biggest differentiator when you're prospecting new clients or developing key industry relationships. The logo or mark of acknowledgement you receive from a respected association can truly improve your company's standing. Those who receive business credentials must meet certain standards and industry-specific criteria, so the designation can give instant credibility to a holder's capabilities.