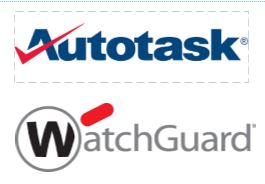 WatchGuard Adds Autotask Integration to Simplify Managed Security Services

MSSPs using WatchGuard and Autotask now benefit from closed-looped service ticketing and synchronization of asset Information

SEATTLE – November 7, 2017 – WatchGuard® Technologies, a leader in advanced network security solutions, today announced the launch of an integration with Autotask's Professional Services Automation (PSA) platform. Autotask PSA is a leading cloud-based platform used worldwide by managed security service providers (MSSPs), Managed Service Providers (MSPs) and IT Service Providers (ITSPs). The integration streamlines network security management through automated, closed-looped service ticketing, and synchronization of customers' security asset information.