As an MSP, you know that manual tasks can be a real time-killer. Spending too much time on billing and managing your IT operations can take away from your capacity to attract more clients, make more sales and reach growth targets. To help you save valuable time and sell more, SherWeb launched a new integration with ConnectWise to add powerful automation tools to its partner portal.
Save Time. Bill Accurately. Sell More.


Running more of your cloud business from a single platform is key to simplifying your processes. SherWeb's ConnectWise integration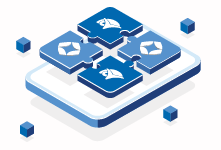 allows you to accurately bill clients, automatically synchronize your subscription billing information, pre-bill and post-bill based on your needs and prorate invoices, all from one centralized location.
With everything you need in one place, the quality and speed of service delivery you provide can drastically improve. This means you can say goodbye to repetitive tasks, billing adjustments and costly mistakes.
You'll also benefit from a unified billing process and increased efficiency, so you can spend more time providing your clients with the best services.


What Key Features Are Included?


Set It and Forget It: Map your products and organizations with one easy step, fully automating your billing process in minutes.


Automatic Synchronization: Automatically synchronize your subscription billing information to save time and hassle.


Real-time Alerts: Get notified on synchronization errors and mapping issues as they occur, so you never miss a single transaction.


Bill Your Way: Pre-bill or post-bill your clients based on your needs for increased flexibility.


Want to explore the power of SherWeb's ConnectWise integration? Check out the demo video to see how these features can take your business to the next level.