What: A Microsoft Office 365 Migration Best Practice Breakfast Seminar
When: Weds 31st August, 08:30 to 11:00
Where: Microsoft Office, Johannesburg
If you're thinking about a move to Microsoft Office 365, and want to ensure the fastest and most efficient migration – then this best practice seminar is for you.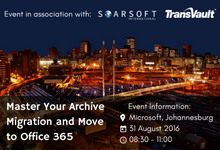 Hear from Microsoft about the key benefits of moving to the Cloud, as they are joined by TransVault, the leader in archive migration solutions and Soarsoft, a migration services expert, for a morning event at Microsoft South Africa.
Enjoy a complimentary breakfast while the gurus take you through the ways you can prepare for the challenges of moving enterprise email and data into Microsoft's Cloud.
Aimed at messaging professionals, by attending this event you will learn:
• How to securely and accurately move legacy email records into Office 365 for a one-stop-shop regulatory experience
• Get an introduction: To the Cloud. From the Cloud. Leverage Microsoft Azure for a completely 'in Cloud' migration
• See how others have made their move and embraced the Microsoft Cloud