By Bob Vogel, B2 Marketing

Last month I wrote about the huge opportunity that exists for EVERY IT service provider and MSP in the medical
and healthcare market . . . selling HIPAA Risk Analyses.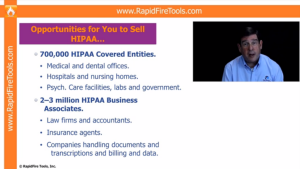 Here's why this is a target-rich opportunity:
Prospects must have one annually, or they are breaking the law.

You can offer a much better risk assessment than your prospects can do themselves.

You have access to a professional diagnostic and reporting tool that guides you through the complex process, making it much easier.

You already understand the IT security issues that confound your prospects.
And most importantly, the benefit of your risk analysis far outweighs the cost.
Nobody understands this better than IT expert and HIPAA guru Mike Semel. And in less than 7 minutes you'll understand, too. That's the length of a super-informative video that Mike and RapidFire Tools, Inc. put together that explains how to sell this service.
In fact, Mike goes through four different ways to do it:
Sell it as a stand-alone Risk Analysis to meet the HIPAA compliance requirements;

Sell it as a full HIPAA Assessment service, including a one-time remediation of the issues you discover;

Sell it as part of an on-going Compliance-As-A-Service, where you regularly update your assessment to ensure they do not experience any data breaches; and

Sell it as part of your ongoing full IT managed services engagement.
Whichever one or combination of these services you decide to offer, Mike walks you through the "Carrot and Stick" approach to selling (for those of you who never heard of this metaphor, that's the two ways you get a stubborn donkey to move: Hold a carrot out in front of him where you want him to go and he'll follow the treat… or give him a good whack on the rump with a stick to frighten him into moving).
In our case, using the "Carrot" approach to selling, Mike gives you all of the features and benefits of the service to share with your prospects. And for the "Stick" approach, he shares all of the doom-and-gloom horror stories of big fines that have been levied due to HIPAA violations.
Resources:
Link to How-To-Sell HIPAA Video: http://ww2.rapidfiretools.com/lp/selling-hipaa.html.
Link to Network Detective HIPAA Compliance Tool for IT Service Providers: www.rapidfiretools.com/nd_hcm.shtml.