Harry Brelsford of SMB Nation sits down with Tim Taylor author of How to Start and Run a Successful I.T. Company Without Losing Your Shirt to discuss the fundamentals of how to actually start your own IT company. Tim started out from scratch and built a successful business, listen and let Tim help you create a successful business by learning from his mistakes.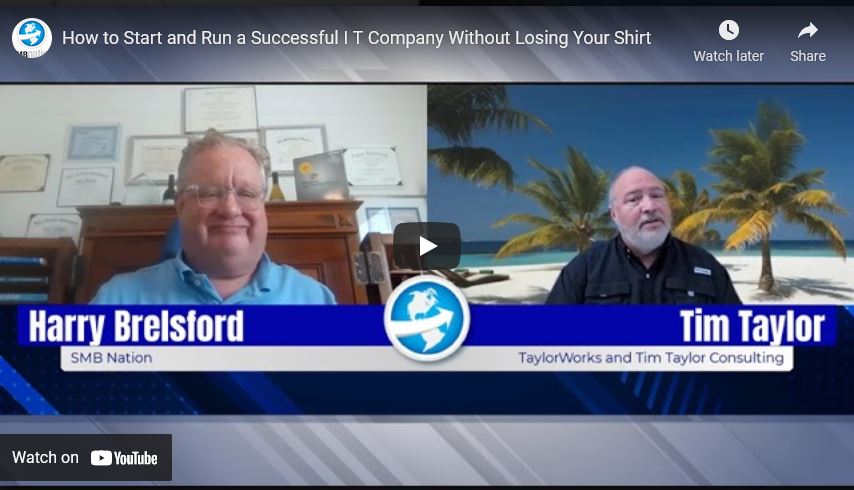 Video Transcription
Harry Brelsford
Hey nation nation. This is a real treat them with Tim Taylor. How're you doing, Tim?
Tim Taylor
I'm doing well. How are you? Good to see ya.
Harry Brelsford
All right. Looks like you're on spring break on the beach.
Tim Taylor
I do live in Florida. I wish this was my view, but it isn't. Love these backgrounds?
Harry Brelsford
Here we go. Well, I, first of all, thank you for being on long overdue, because for some time called How to start to run a successful IT company without losing your shirt. Love the title. Yeah, so what's the story?
Tim Taylor
Well, I I've been in it my whole career in 1999. So you know what, I'm tired of working for other people. If I'm ever going to do this, I got to do it. Now. What's unique about my stories, I was 40 years old, I had three kids. Yeah, I have a mortgage, I had two car payments, and I had $500 in the bank. And I said, my God, I'm starting my own company or die trying. And I I borrowed a call my best friend and borrowed $5,000. So that's just what I needed. Lastly, over a couple months, I had one client lined up, and he loaned it to me and the rest is history, we've been in business 23 years now you have 11 staff, we do over 2 million a year in business. But what when I first started, I looked for that book, I said somebody had written this book, How to run an IT company. And I looked everywhere, and the only thing I could find was a guy wrote a book about starting a computer store. And that was literally the only book I could find there were a couple of consultants out there, but there weren't very many. And so I just said, You know what, one of these days, I'm gonna write this book. So I got started, and I was cranking away and around 2010, I think one day I just wrote down, if I'm gonna write a book, here's what the chapters would be. And it just kind of sat there for a long time. You know, if you've ever written the book, you know, it's a real creative process takes a long time. And I was running that company, you know, building things up and running, running. And so finally, I sat down around 2014, and started really kind of working on it. And then it would sit for a few months, and I would pick it back up again. And I finally finished it and late 2015. And then 2016, we we do self publishing, we put it out there, I bought a whole bunch of copies and put it out there and people started buying it. And I you know at that time, I was shipping them all over the world. And then people were saying, Can you come out with a Kindle version. So I came out with the Kindle version, and then actually got a good friend of mine who's got a great DJ kind of voice. And he did the audible for me. And so it's an audible and so you know, you can get it if you want to just guys are telling me hey, can you can you do an audible version just listened to it in the car? I said, Sure, we can do that. So that's really how it got started.
Harry Brelsford
Wow. And have you have you done updates to it? Or do you have a periodic newsletter or something where you can kind of keep the party going? Yeah, I
Tim Taylor
do. You can go to Tim Taylor consulting. com. I'm the only consultant that I know of that actually still owns and runs his own MSP. Okay, I got one, I'm in the trenches with you guys. I run it every day. And so I have a consulting practice. So I started on the side, where people it's very nominally priced, I keep the price really, you know, down where people can afford it, especially people that are just getting started, I have a heart for helping guys that are just getting started. You got one or two clients, you don't know what to do, or you've been running for a few years and you feel stuck. And you just don't know how to move forward. I have a one on one consulting that I do. And I also do a group consulting where you can join a group of people, and the group meets every week, and the one on one we typically meet once a month, but I give you more of my time in, I tell all my guys you can call me email me. And you can even use my text if you're stuck on something. A lot of guys are still one man bands. If you you're not that familiar with Active Directory or server setup, or something like that, my guys will help you with that. And you know, obviously you have to charge you but you get to mark it up and charge the client, you know, so yeah, yeah.
Harry Brelsford
Well, I'll tell you now that I know what you do. I'm going to refer in a gentleman Ryan out of Dallas to be your next client. I'm going to recommend that he does that he's he's basically, at the end of the day, a one man band and still kind of stuck in the break fix model. Quite frankly, he's he's a little frustrated. Beyond that question.
Tim Taylor
I will tell you I was I was there. When I first got started. Everything was built by the hour. And it was great. I mean, every minute I was working, I knew I was making money, you know, every minute and I had four or five employees. Bing bing, bing, bing me. The money was just rolling in. But there was no recurring revenue. Yeah, really can't grow your business and really succeed unless you have recurring revenue. And whenever I would go on vacation, there were four of us. go on vacation, my revenue that week or two weeks, whatever it was, would go down by quarter because I wasn't billing. And so it's just not a sustainable model. In the long run, you can have a lot of clients and you can fill your day up with a good bit of billable time. But again, if you get sick or go on vacation, you need to have that recurring revenue. So you've got tools out there that are cranking way of doing things where the money is coming in. And it's overlapping, you know, you can only build certain number of hours a day. But these tools and things can allow you to receive a lot more income. And that's what managed service is really all about. And that really came out of customers getting tired of not knowing what they're going to pay. You know, they would just, they weren't going to pay every month, they would you know, like one month you're there. 20 hours next month, you're there 40 The next month, you're there 10. So it's just, you know, no, no, and I want to level amount that I'm going to pay. And my first plant I did that for it was a big church, actually, they had like 50 machines. And when I walked in there, they had eight. And they grew substantially, but I was billing them by the hour and that, you know, one month it was this enormous bill. And they were like we can't do this. And so I worked out a deal where it was a flat rate machine. And this was long before really managed services got popular. And so I built in that set amount every month. So that's what they appreciate it. Yeah.
Harry Brelsford
Where can people meet you or go to some of the industry events? Dispatch parties?
Tim Taylor
Yeah, I do. I speak at a number of events. James Kernan has an event. His mastermind event I spoke at I speak data. I'm a big data partner. And a couple of years ago, Gatto, before the pandemic Datto does these road shows around the country. And they live like to bring a battle partner to the road shows a guy who's using data when the road shows are all for MSP. They're they're introducing your data. This is what we do is how it works. Yeah. And so they take me into other markets that I don't compete in, you know that I would never do one in Orlando where I'm from. They sent me all around the country. So I did tons of events for them. ASCII events I've done. haven't spoken in ASCII yet. Yeah. But I've spoken in a number of Datto things. And yeah, anybody wants me, you know, reach out. And we use a lot of products. And I'm happy to speak I just the only thing I ask is, can I mentioned my consulting practice, and people want to use me. And I usually bring a number of books with me, and I always sell the books that I bring. So yeah,
Harry Brelsford
until the game is played. Yeah.
Tim Taylor
But I really wanted to create the consulting practice, because there's just not anybody out there. That's helping the guys, we're just getting started. Because I literally started on the trunk of my car. I mean, I can remember crawling under desks, setting up computers, you know, and I hadn't done that for a few years, because I was managing a team and a big nonprofit, that they were doing all that and then suddenly, I'm the guy crawling the desk again. But I just I enjoyed the fact that I was master my own destiny. This is why people start their own companies. And the fact that every minute that I was working, I knew that I was billing and I was making the money. It wasn't making it for somebody else, you know, and that's really pretty much why we all get motivated to do that. But you can get Tim Taylor consulting comm you can send me a message off there. And yeah, I'd be happy to help you out.
Harry Brelsford
All right, well, I'll tell you what, I'm gonna give you a referral. And then let's get you back next quarter, let's let's make this an ongoing conversation. You have a lot to say.
Tim Taylor
Absolutely. I love this community. I love the MSP space, great guys that are doing it. Some of them have done extremely well had really big companies. The average MSP though still just two or three guys. And the average MSP never breaks million in sales. And that is just kind of heartbreaking for me because I did that within six years. And it can be done. It absolutely can be done. And it is it well, I'm not a salesman, technicians make better salesman, because they're honest. And people believe what you say they, because they know you're an authority already. You're not just trying to sell them something. You're trying to help them out, hey, you need to replace that server over there because it's old. And I'm you know, and they believe what you tell them because they trust your technical knowledge. So they go Yeah, I'm gonna do that. Okay, so, you know, my job is morphed into total sales, you can probably tell I'm kind of the motor mouth. But um, but I'm also a technician. I was a mainframe programmer before the PC was invented. So I I've been in this industry for a really long time were from IBM mainframes. Digital mini computers, Data General invite remembers that when I worked on those machines, and then when the early PCs came out, you know, I worked in a big place. I was mainframe programmer. They go who can set up this PC so well, I can do it. And then somebody else wanted one and somebody else wanted one and suddenly I became the microcomputer guy. And over the 13 years I worked there I've sold over 2000 machines. Yeah, I worked there for 13 years and I left and worked for Small IT company for one year and I said, My God, I can do this myself and jumped out there on my own. Like, I'm sure a lot of yours a lot of your listeners have done. And it is very doable. I worked with a guy in California right now that's been in business for over 10 years, completely by himself, has a number of clients but had no managed service contracts. His name is Louis is a great guy. Nobody wants to talk to him, let me know him surely love to talk to you. I said, Louis, you've got this one client, they're perfect for manage services perfect. I said, You've got to go in there and present a contract. Well, I don't know what to do. I shared my contract with him. I taught him over the phone, how to sell it, how to present it. I said, they're not going to respect you if you don't do something like this. And he was doing their phones as well as to go in there and charge them X amount per machine X amount per phone, you're going to cover all these services for them. And they signed it immediately. He had like 40 machines under contract, they came back. I couldn't believe I did that. Well, absolutely he did. But you need somebody mentoring, you need somebody helping you if you've never done it before. But when I wrote my book, I really wrote it from the perspective of, you know, this is the guy that's just starting and I tried to go from literally, you have the idea to start a company to running a successful company, I put all of those chapters in there. And I started out with should you start your own company? I mean, should you really do this, and these are some things you better have lined up where you get started. And this is what it's really like to be out there and doing it. What it's really, really like. And I That's why I wrote the book, because I wanted somebody that just had the idea of doing it thinking, can I really do this and I get into managed services and how to sell managed services, I am going to update it in the next year or two. Because there's a lot of things have come out. And I want to do a volume two of it. And so I will be you know, I will be doing that. But I love the result. I do I do my consulting one to two days a week. And so anybody that wants to sign up, get very reasonable prices in your and you work with somebody who's done this for 23 years. So you know if I don't know how to do it by now. And I have a successful practice. We're twice as big as is many practices out there. So not to blow my own horn, but I just worked really hard. And I believe in people and I love working with people so
Harry Brelsford
well. We'll make that the final word. We'll see you next time. Thanks.
Tim Taylor
Thank you so much. All right. Talk to you soon. Yep,