Park Place is a global data center networking optimization firm, that has a suite of services and a pool of global resources that they leverage to support data center and network optimization. From discovery service, data center services, IT asset relocations to remote hands, Wireless Transformation, IT Asset Disposition and so much more Park Place empowers IT with their flexible, dependable IT Services.
Watch as Mike Nicholis shares with us Professional Services with Park Place.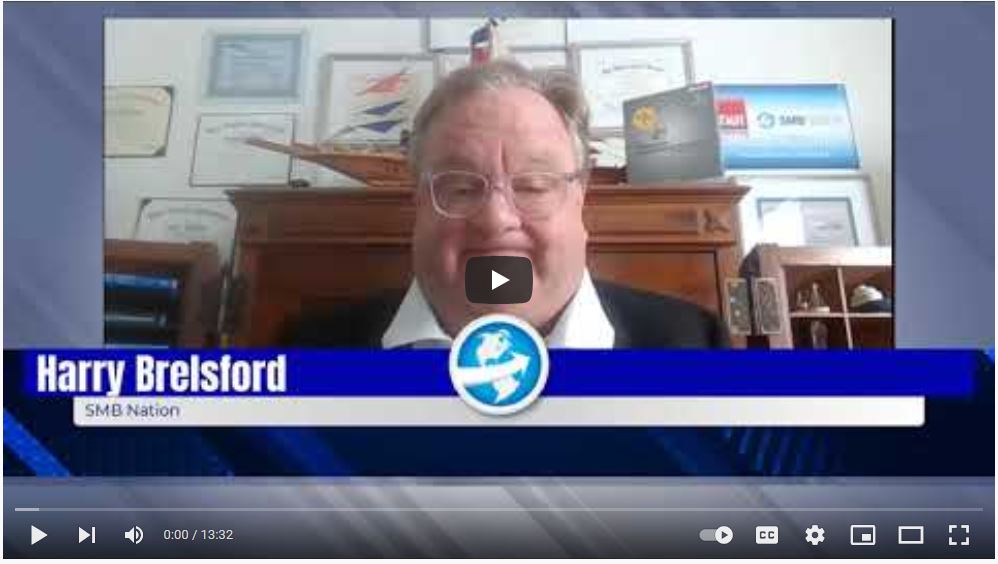 Video Transcription
Harry Brelsford
Hey, nation nation, Harry here in just a moment, you're going to get the quarterly briefing from Park Place with Mike Nicklaus. And I'm pretty excited about that. But I want to connect the dots last quarter we talked with an executive about the supply chain issues and the macro economy and so on. This time I want to connect the dots because we're going to talk about the professional services at park place in how does that impact you? We all have these pain points right of this skill shortage and staffing shortage. And what you're going to see in this briefing is Park Place has in their professional services, division, resources to help you overcome that quite frankly. So let's just jump right into it. All right, getting This is our quarterly briefing with Park Place technologies over in the Asset Management Area. But you're you're a lot more than that. And today we're talking about something I wasn't aware of in professional services. First of all, what what is your role at park place?
Mike Nicholis
Yes. And thanks for having me today as well. I appreciate it. So my role, I'm responsible for leading our professional services sales organizations, so I provide oversight and support of all of our sales organizations with specific focus on professional services.That's great. Well, hey, let's jump right into it, we got a lot to cover, let's go to slide tune, walk me through the scope of your organization.Absolutely. So we have a suite of services that we offer today. And I want to cover a bit on each of these services. But to put this in context of the broader Park Place offering, you know, Park Place is a global data center networking optimization firm. And so from a professional services perspective, that means we have a suite of services and a pool of global resources that we leverage to support data center and network optimization. That's everything. You know, from basic iMac, and we'll talk about these services specifically in more detail, but to more complex deployments. So what you have on the screen here in front of you is the suite of our professional services, I'll start in the top left hand corner here. First service that we offer is a discovery service. There's a couple of different discovery options with Park Place, we have through our Park View solution, the ability to do automated discovery, but from a professional services perspective, we're specifically focused on a manual discovery. So this is us being asked to go into data centers and do an assessment of the equipment that may be in the data center in a given rack in a given area for the customer may be a closet for the customer where they have IT equipment. And they may be doing this to update a CMDB they may be doing this to understand what they have in place. They may be doing a refresh, they may be looking for space to do a new deployment. So that's that discovery service. Sure. The next option is our data center services, iMac install, move, add change. These are your typical data center services where you may be doing install of new device you may be doing install of components are drives, memory, etc. You may be moving devices within racks across the building, etc. So you know, the typical things you HAVE IT staff doing in your data center physically falls into our data center services. The next item is i Yeah, go ahead. Do you have a question? No.Well, I'll tell you what, I did have a question with discovery. In the SMB Nation community, we tend to use the word assessments. I think we're having the same conversation. Yep, Agreed. Agreed. Okay. All right. Moving on.Okay. IT Asset relocations, this is moving equipment from one facility to another, it may be a device, it may be a rack, it may be a full data center. We have all of the resources available to go in. assess both the source and the destination. And sure all considerations for the relocation are taken, you know, everything from cabling, and the cabling diagrams, are they going to be the same from the source to the destination? The logistics on site? Do we have access to the equipment easily? Can we pull a truck up easily and load that up? So just a full suite of services to get you from one location to another up and running? We typically do these over the course of a day or so. So downtime is minimal.
Harry Brelsford
Wow, that's impressive. Yep.
Mike Nicholis
Next item is our remote hands. This is our one professional service that is dispatch based. So similar to our and you know, leveraging our core competency around third party maintenance, we have a service desk and this gives our customers the ability to actually create into our service desk and request a field engineer to come on site for a suite of tasks and activities that are very well defined at the customer's direction. And so we set up a contract and a pool of hours with the customer, and they can in the locations where they may need service, and they can give us a call. And we can deploy resources quickly on site when they don't have access to resources. In those locations, they may not have the skill sets, etc.
Harry Brelsford
Yeah, so a question for you. As I shared with you, in rehearsal, SMB Nation is primarily you know, it service providers, right? And could they sign up to be a resource for you? Are you using outside resources? And any answer is fine. But I know, you know, if I buy a garage door, it's serious and it gets installed. It's often a contractor to Sears.
Mike Nicholis
Yeah, absolutely. Yeah, great question. So, you know, because of we tout our global global coverage. And with that global coverage comes the need to have access to a lot of resources, and it wouldn't be fiscally responsible for us to have all of those resources, on payroll fully. So yes, we have a suite of partners that we leverage as well, to support our customers our customer needs. So absolutely,opportunity. Excellent, please proceed.Okay, wireless transformation, we think of wireless transformation in a few different ways. First portion of this offering is really around wireless surveys, this may be going into an office building, it may be going into a production facility production floor, it may be going into a warehouse may be going into the parking lot area of a business, and assessing their current wireless implementation, we are able to provide coverage maps, identify blind spots in network coverage, etc. If you're doing a new implementation, we're able to do a predictive survey of a location and determine where we feel you're going to need to put wireless access points to fully cover that given area and location. So that's kind of the first part of our wireless transformation service, we then can help with the the bomb or the building materials. So what we recommend from a materials perspective that the customer may want to procure, we can help procure those those assets as well for deployment, and then the third area of it would be the deployment itself. And doing that implementation. Next item, is it asset disposition? Vaseline known in the industry, as I tad so this is the destruction of data. So securely wiping data. It's the physical destruction of drives the physical destruction of other IT assets, servers. We've we've done racks and other things as well. We do follow e waste protocols globally. It's important that, you know, we keep an eye on being green as we go through these activities. And those rules actually differ by locale. So you know, we make sure that we watch all of that and follow the the local requirements as it relates lates to to an E waste offering. Next time missed. Yep. Yep. Next item is staff augmentation. Fairly straightforward. You know, if you've got gaps in your staff, and you need longer run resource to fill those gaps, we we check our pool of resources, we can go out to market as we talked previously into our partner base, specifically, based on customer requirements and identify resources and given locations to go ahead and support customer needs. So yeah, the process there is, you know, essentially understanding what the customer is looking for the locations, what the skill set requirements are, and then we go and facilitate finding those resources through our network, they're known resources to us and then we can manage those resources as well.
Harry Brelsford
Yeah, cuz what what I'm concluding and again, for the listeners, you know, get to know Park Place, remote camps and staff augmentation mic community, we, we refer to these as maybe, you know, side hustles, right, that they have their core MSP business, but you know, everybody probably has a little bit of slack in their schedule. They won't always admit it. That's right. And they can do a side hustle. Alright, let's talk deployments.
Mike Nicholis
deployments. The easiest way to think about deployments is, you know, typically your data center services do Those more at scale, we have customers that come to us and say, Hey, we're doing a complete network refresh in 30 data centers globally. So we want you to lead and manage those implementation those deployments. It may be any of these other services at scale as well, we may be doing an IT Asset disposition across multiple locations. So it's really putting a more programmatic approach to all of our services for a specific customer need program or project that they're running. Yeah. And then data migration, this is actually a new one for us, we just had an acquisition where we pulled this data migration function into our business, we're really excited about it. This gives us the ability to do data migration, and the best way to think about it is physical on prem data migration. So if you are doing a storage refresh, if you're adding storage capacity, and you have to do migrations, if you're switching from one platform to another, we have the ability to manage those from soup to nuts. We have a very specific methodology that we follow, it's proven. And, you know, us being part place and some of the other services that we offer, we're actually in a unique position where I'm in situations where we're doing these data migrations, we actually may be able to support some of your needs while you're doing a migration related to maintenance.
Harry Brelsford
So I'm assuming this is truly at the data level. And let me let me give an example in our community. We have these migration tools sky kick out of Seattle, a bit tight now to Seattle. But they're specific to Outlook emails, and they're migrating up to office 365. I'm assuming, correct me, I'm assuming you don't drop down to the app level like that. You're thinking more data center data, lift and shift databases? Yeah, this
Mike Nicholis
is at the data level. So you know, files, file systems, block data, virtual migrations. So if they've got a virtual system, and they're moving from one VMware to another, we can assist with that. And sands are a big area of focus.
Harry Brelsford
No, that's great. Well, I'll tell you, it all, it all adds up to opportunity. And what it all starts at a dub dub dub dot Park place.com.
Mike Nicholis
It is Park Place. technologies.com. Park Place technologies.com. So
Harry Brelsford
folks who are out in the blog below. Alright, well, Mike, thanks for your time for our quarterly briefing. We'll see you on the flip side.
Mike Nicholis
Thanks. Very appreciate it.