With the number of cyber attacks in the last couple years, zero trust is rapidly becoming the cybersecurity model of choice for many organizations. Zero Trust is a approach to cybersecurity that eliminates trust and continuously validates every stage in a digital world. This idea is designed to protect modern environments no matter the network (local, cloud, or hybrid) with resources at any location.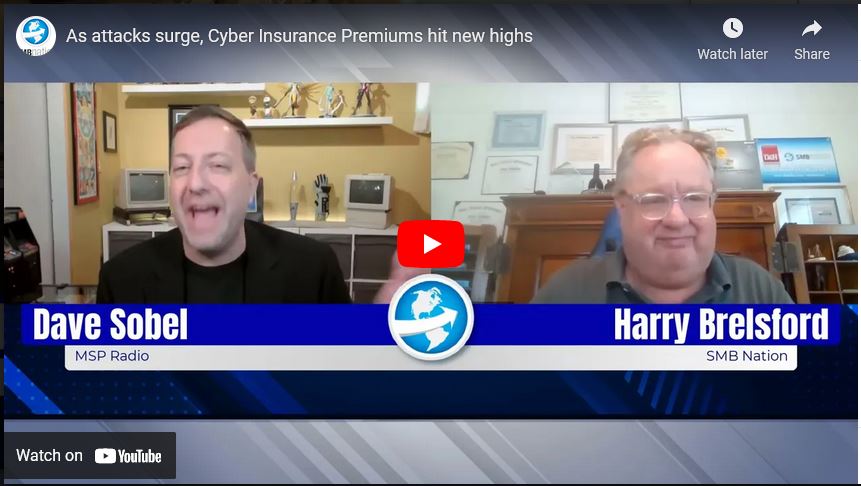 We chat with Dave Sobel on his thoughts about Zero Trust and moving forward with it.
Video Transcription
Harry Brelsford
Hey nation nation back with Dave Sobel, who I recently saw at the Acronis Cyber Fit Summit Conference in Miami Beach. Hey that was fun.
Dave Sobel
It was good fun. They the team there put on a great event. They know what they're talking about and actually release some cool new research to.
Harry Brelsford
Yeah, yeah, in fact, I've got that down here. Let me show you. I've kept that handy. That was actually a real good study about a MSPs. takeaways from the conference, from your point of view, what do you like? Maybe what did you see that maybe you would have done differently? I don't know.
Dave Sobel
Well, I mean, for me, for I'll start with a research study, you know, they did a really good job to show that there were They were talking a lot about the power of integration, less tools being actually a good strategy towards profitability. It makes intuitive sense. They did some research to show that, you know, one of the big things I had to take away one was they were talking about kind of a lack of trust. My question that I posed to the to the audience was, I mean, I actually want to move towards complete lack of trust. That's called zero trust, right? I want there to be in a mode where you're not by default, trusting you are, in fact, untrustworthy of the relationship. Fair enough. That's that's a healthy thing. Like doesn't mean that I don't trust human beings in a business relationship.
Harry Brelsford
I don't trust humans.
Dave Sobel
You know, I'm Yeah, right. It's, it's it's the I don't trust the technology to do what it says it does. Because that's the correct way to approach this is, is that I want to, you know, they say Trust, but verify, yeah, verify. That's the important bit. So I thought that was that was a key takeaway for me. And then the other thing that I think is interesting is, is you know, they they're making very much a play around this idea of a security platform. They're investing in AI and ML and and doing all the right kind of stuff. From an alerting perspective. It's a really interesting play, it plays into the hey, we're going to be a pure play security player, we're going to put forth a security platform. That's a that's a unique, different strategy.
Harry Brelsford
Yeah, it is. No, let's talk about that. Because, you know, I have my analyst hat out of reach, but is when I put that hat on my peg, this was what was cool about going to it nation just after the Acronis event is, you know, you have these, for the sake of this podcast, let's say four or five major platforms, maybe you could argue two or three, right, but they're all encompassing, and Acronis wasn't necessarily in that same conversation, they're in a different lane. And I could say the same about Skykick and Bit Titan, they're in a different lane. You know, the word platform, it's overused, but I like the way you put it, that it sounds like Acronis wants to stay on the ranch and stay in there on on on their lane, in their lane and do it well. Right. And that's very different than ConnectWise or Datto.
Dave Sobel
Right. And by the way, like I always like a strategy is we're going to do something and be really great at it. That's always a really strong strategy is to focus on what you're good at and be really great at it. You can't be all things to all people. And you know, and I don't like chasing, you know, fantasies, you know, the mythical single pane of glass, we that it doesn't exist, it is a fantasy. Let's not over rotate on on focus there. Let's actually make sure that we're using tools that make sense. And we need to be careful by the data that said, You've got to make sure that you're investing in just the right ones. Because too many tools actually does drag down your business.
Harry Brelsford
Yeah, yeah. No, I would concur. And you see it all the time in the secular business community a turn on CNBC. And by analogy, I always felt General Electric was was kind of that way that we're in aerospace, medical, electricity. Imagine that.
Dave Sobel
All right. And here they are being broken up. You know, we look at we look at the the great study of the 20th century and leadership and maybe it was smoking mirrors as they are now breaking up to unlock shareholder value like that. There's a lesson to be learned there.
Harry Brelsford
I mean, funny how things come around full circle, so Well, hey, my friend, appreciate you sticking with us hanging with us. Let's head into 2022. We'll catch you on the flip side.
Dave Sobel
Looking forward to it.
Harry Brelsford
All right.